Events
ADB Data Room: Marine Aquaculture, Reefs, Renewable Energy, and Ecotourism for Ecosystem Services
Humanity is becoming increasingly aware of the challenges to the health of our Oceans.
Extractive Industries (fishing and mining) take more than they replace. By capturing excess energy in our oceans to make non-polluting fuels, we can support coastal livelihoods and the natural capital which underpins these communities. This TA aims to show how we can enhance ocean health by concentrating investment on four core areas - Marine Aquaculture, Reefs, Renewable Energy, and Ecotourism.
To support its developing member countries, the Asian Development Bank (ADB) has compiled the following briefs, webinars, reference materials, and project examples to enable governments to enhance their Natural Capital Assets.
On 7th February 2023, ADB and the Centre for Indonesia-Malaysia-Thailand Growth Triangle (CIMT-GT) hosted a High Level Investor Forum in Kuala Lumpur with the theme of the "New Ocean Energy Economy". Over 150 participants discussed marine renewable energy and its use to regenerate ocean ecosystems with a Keynote Speech by Yang Berhormat Tuan Mohd Rafizi Bin Ramli, Minister of Economy, Malaysia, and representatives from Palau, The Philippines, CIMT-TG, and ADB. 
Over 150 Representatives from government, infrastructure and energy developers, investors, blue economy businesses types, and community groups gathered together to discuss how to realize a "New Ocean Energy Economy" as part of a just transition. 
THREE WORKING PLENARIES: 
PLENARY 1: The New Ocean Energy Economy
Rear Admiral Nick Lambert (Retd) presented the concept of multifunctional sea space and MARES-type projects. A graphic of the MARES concept is attached below.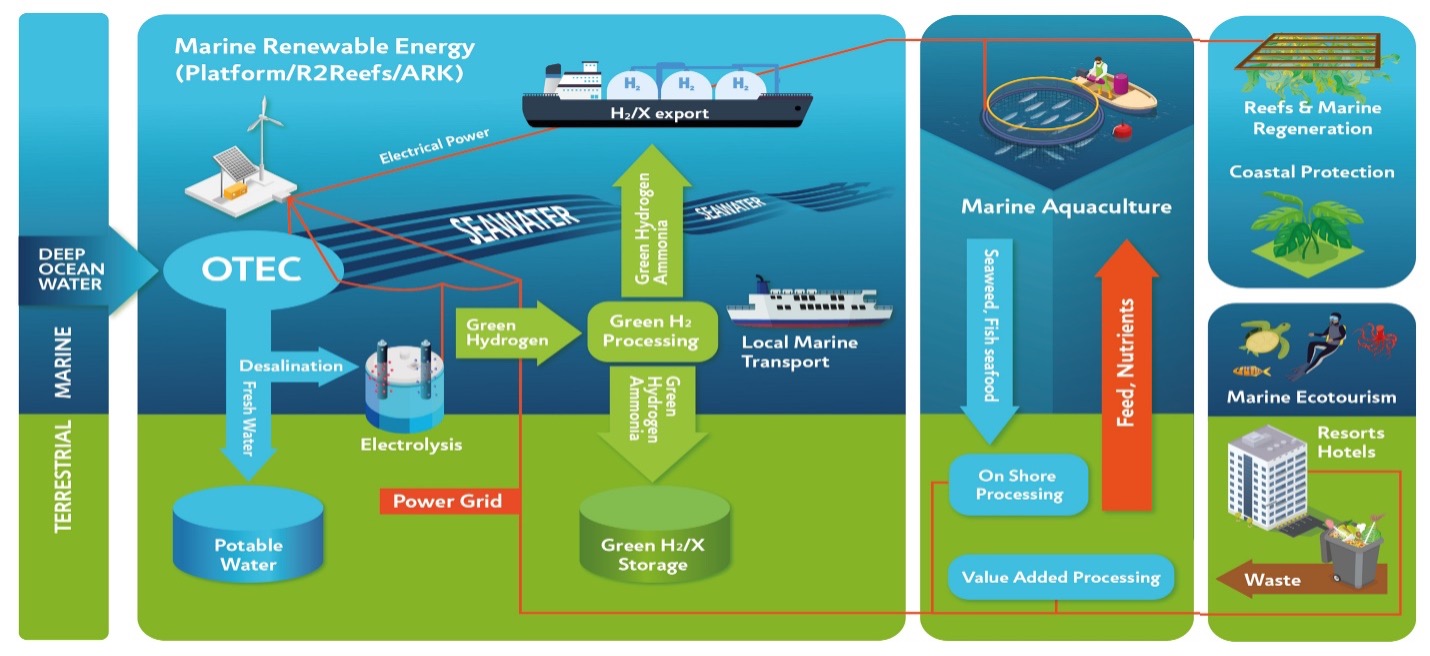 Marine renewable energy and its economics were discussed in the first panel of the forum titled "Integrating the New Ocean Energy Economy to Global Energy Needs".  The eight shortlisted project pitch videos were presented just before a networking lunch (please link)
PLENARY 2: Using Energy from the Ocean
Dr. Thuttai Keeratipongpaiboon from the Office of the National Economic and Social Development Council (NESDC), Kingdom of Thailand, delivered the opening remarks which set the scene for the inclusion of all sea-space users. Inez Marquez shared what was happening in the green hydrogen space and possible inclusion in MARES-type projects.  The second panel of the day, titled "Integrating Micro-, Small-, and Medium-sized Enterprises (MSME) into New Ocean Energy Economy", discussed just transition, engaging with stakeholders, and how larger infrastructure developments can make space for smaller sea-space users.
The winning pitch was announced. Congratulations to the team of Subic Blue.  Honorable mention was made for three pitches that demonstrated the multifunction approach and showed clear benefits to all sea-space users.
PLENARY 3: Responsibility Using Marine Spaces and Closing Plenary: Summation of Progress
Pak Andreas Dipi Patria, Coordinating Ministry of Maritime and Investment Affairs Republic of Indonesia provide opening remarks which highlighted the action on maritime investment.  The final event panel, titled Financing the New Ocean Energy and Blue Economies, was a highlight of the event with practical commentary.  This panel sparked a discussion that extended after the forum. The ADB project officer, Steve Peters, provide a summation of progress on TA6619 to date and the event was closed By Dr. Priyantha Wijayatunga, ADB Chief of Energy, with a call to action.
To receive updates directly to your email on the MARES project, including news on how you can submit project ideas for consideration, please sign up here.
Program and Learning Materials: