Series:
ADB Data Room: Marine Aquaculture, Reefs, Renewable Energy, and Ecotourism for Ecosystem Services
High-Level Investor Forum on The New Ocean Energy Economy
The Asian Development Bank (ADB) approved the Knowledge and Support Technical Assistance (TA) 6619:Marine Aquaculture, Reefs, Renewable Energy, and Ecotourism for Ecosystem Services (MARES) in 2019.
The TA will facilitate future investment in sustainable ocean economy development through two main activities:
assessment of marine resource commercialization prospects (including energy, seafood, and tourism) and identification of potential investment projects in selected developing member countries (DMCs); and
stakeholder engagement and knowledge management on mechanisms to facilitate large-scale investments and to accelerate financing of selected projects.
ADB, in partnership with Indonesia Malaysia-Thailand-Growth Triangle (IMT-GT) Subregional Program, will be hosting a High-Level Investor Forum (HLIF) on The New Ocean Energy Economy on 7 February 2023 in Kuala Lumpur, Malaysia. The proposed HILF is a key milestone of the TA.
Over 120 participants will convene at the Forum to discuss project opportunities, constraints, and implementation strategies. With the theme "Introducing the New Ocean Energy Economy," the Forum's main purpose is to support and promote substantial cooperation for innovative but scalable integrated ocean energy solutions and regenerative business activities in coastal states and communities.
The key focus of the Forum will be on policies, measures, and best practices for the Blue Economy and marine renewable energy, marine renewable energy technologies, related regenerative activities, market solutions, regional cooperation and integration, and future marine spatial planning.
This is a Hybrid event with 200 participants in an in-person capacity and an online conferencing function. Registration link will be posted once available. 
The forum will also see the pitching and selection of a winning project from the shortlisted projects below.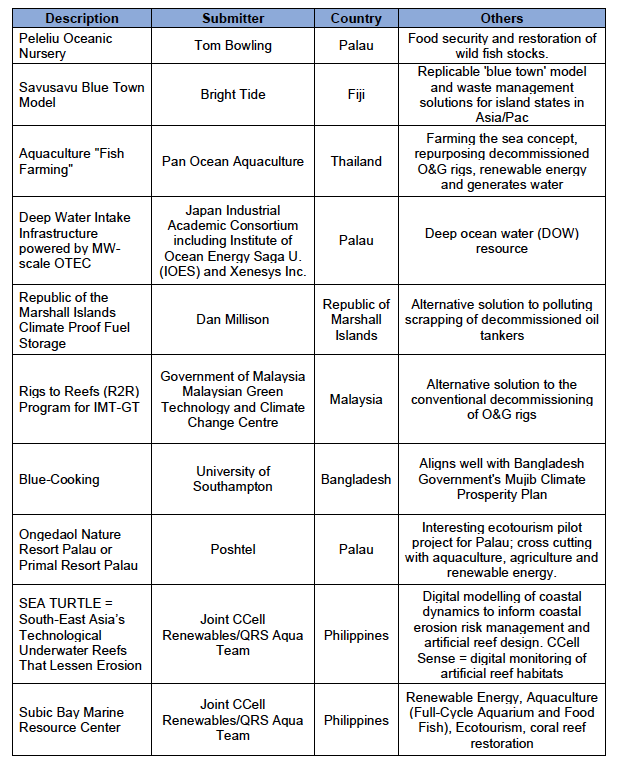 For more information please contact mares@adb.org.
Program and Learning Materials:
| Date | Session / Activity | Presentation Material | Speaker(s) |
| --- | --- | --- | --- |
| 07 Feb 2023 | | For more details of the Agenda, please click here. | |