Events
8th International Skills Forum: Future of Skills and Jobs in the Age of Digital Disruptions
27 August 2019

to

29 August 2019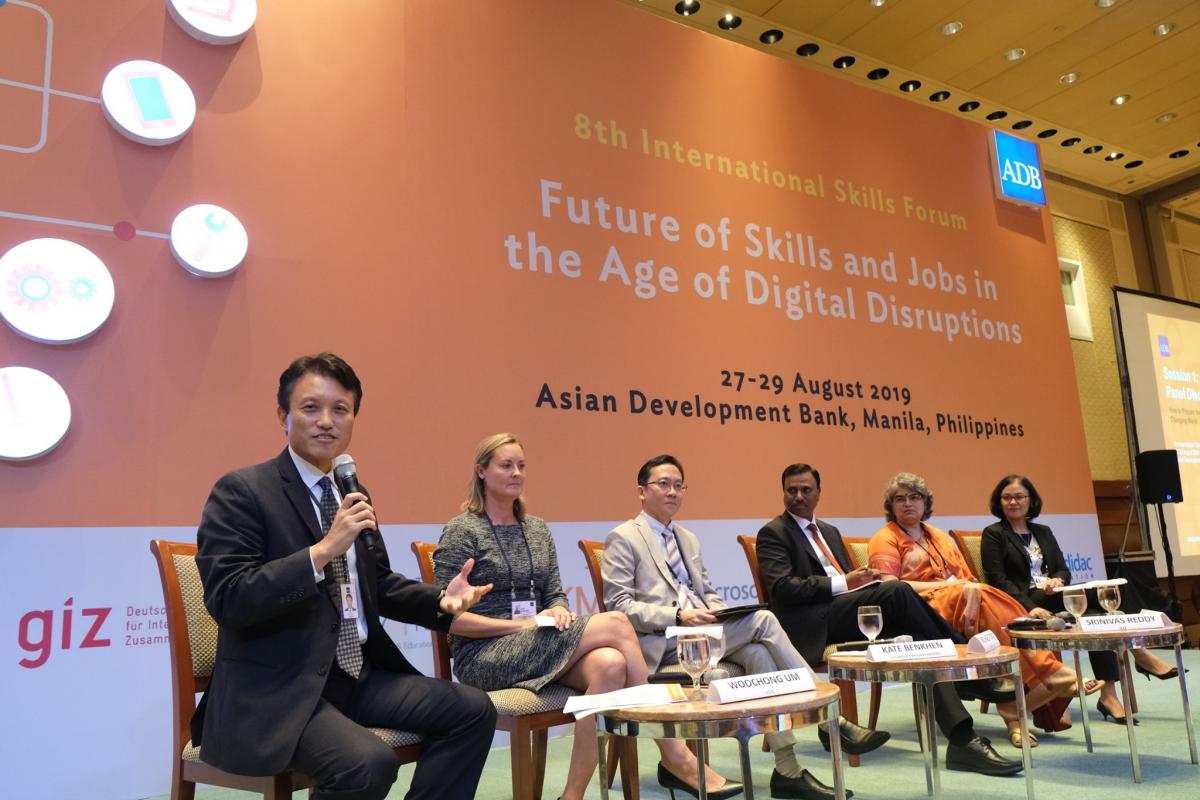 In this age of disruption and automation, how do we remain responsive and relevant in the world of work?
Developments in artificial intelligence and robotics are seen as major threats to jobs that require routine tasks. There are also growing concerns about rising inequalities and how technology is contributing to wider economic gap. On the positive side, technology provides opportunities to enhance human capacity and productivity.
Two critical challenges in education and skills development are (i) poor learning despite improved access at all levels of education and (ii) serious skills mismatches despite growing investments in education and training. How can governments address these challenges and how can ADB support the governments? These challenges require innovative solutions in close partnerships among governments, development partners, private sector and civil society organizations. In Asia and the Pacific Region, these challenges are further exacerbated by the demographic changes and technological disruptions.
With the theme Future of Skills and Jobs in the Age of Digital Disruptions, the 8th International Skills Forum highlighted transformational practices in education and training using technology, eLearning, and innovative partnerships; implications of and response to Industry 4.0 on skills and jobs; and examples of innovations in education and training through the "Innovation Marketplace". 
Download the photos here.
Program and Learning Materials:
Date
Session / Activity
Presentation Material
Speaker(s)

27 Aug 2019

Opening Remarks
Opening Remarks - 8th International Skills Forum


Government has an important role to play in leveraging technological advances for inclusive growth. In his opening remarks, ADB's Bambang Susantono share...

Bambang Susantono

27 Aug 2019

Forum Objectives and Introduction
Brajesh Panth

27 Aug 2019

Keynote Address
Rethinking Strategies to Accelerate Student Learning Outcomes in K–12
Lant Pritchett

27 Aug 2019

Session 1: Panel Discussion
How to Prepare the Workforce in a Rapidly Changing World
Kate Benkhen, Michael Fung, Srinivas Reddy, Gayathri Vasudevan, Ambe Tierro

27 Aug 2019

Session 2A: Effective K–12 Delivery Models
How Virtual Reality Changes K-12 Education


How real is virtual reality in the context of K-12 education? Download this presentation to learn more.

Linda Cai

27 Aug 2019

Session 2A: Effective K–12 Delivery Models
Two Simple Ways We Bring Joy Back in Learning


51Talk's Cecilia Lewis shares the conditions that would lead to effective learning.

Cecilia Lewis

27 Aug 2019

Session 2A: Effective K–12 Delivery Models
Empowering Teachers through Technology


Technology can never replace the critical behavioral relationship between the teacher and child, including demonstration of emotional connection and positive...

Shannon May

27 Aug 2019

Session 2B: Transformational TVET: Good Practices from APACC Accredited Institutions
Quality Assurance Through APACC


Learn more about the benefits of Asia Pacific Accreditation and Certification Commission (APACC) accreditation.

Ramhari Laminchane

27 Aug 2019

Session 2B: Transformational TVET: Good Practices from APACC Accredited Institutions
Good TVET Practices @ PoliteknikSultan AzlanShah (PSAS)


Learn more about the experiences ofPoliteknikSultan AzlanShahin providing skills development education to its students.

Naimah Binti Md. Khalil

27 Aug 2019

Session 2B: Transformational TVET: Good Practices from APACC Accredited Institutions
Good Innovative Practices of TESDA Women's Center, Philippines


Innovation in TESDA Women's Center (TWC) is creating a learning environment that will develop competencies of our students in using strategies and techniques...

Maria Clara Ignacio

27 Aug 2019

Session 2B: Transformational TVET: Good Practices from APACC Accredited Institutions
Good Practices from Ubon Ratchathani Vocational College, Thailand


Learn about the good practices of Ubon Ratchathani Vocational College Thailand, including how they prepare their students to become part of the labor ...

Thawatchai Punnikul

27 Aug 2019

Session 2B: Transformational TVET: Good Practices from APACC Accredited Institutions
Education for Future Generations
Andrew Khaw Hong Cher

27 Aug 2019

Session 2C: Innovative Approaches to Digital Learning
Innovative Approaches to Digital Learning


Check out how Microsoft Philantrophies help in advancing a future where every person has the skills, knowledge, and opportunity they need to succeed in...

Naria Santa Lucia

27 Aug 2019

Session 2C: Innovative Approaches to Digital Learning
The Economic Graph
Pei Ying Chua

27 Aug 2019

Session 2C: Innovative Approaches to Digital Learning
Innovative Approaches to Digital Learning


Learn more about Udemy, and how it strives tocreate quality contents for its students.

Richard Qiu

27 Aug 2019

Session 3: Innovation Marketplace
Big Bad Boo


Children aged 1-12 are at the prime period of developing and normalizing crucial values (diversity and inclusion, don't cheat, don't steal, respect for...

Devin Woods

27 Aug 2019

Session 3: Innovation Marketplace
Bridge International Academies


How technology is blended effectively with content to help teachers improve teaching and learning in the classroom? Bridge International Academies shares...

Sujatha Muthayya

27 Aug 2019

Session 3: Innovation Marketplace
Institute of Technical Education (ITE)


How has ITE responded to the age of digital disruptions and uncertainty? What is the thinking behind its revised curriculum delivery model? Come and hear...

Sharon Wong , Iris Seet

27 Aug 2019

Session 3: Innovation Marketplace
A Model for Sending Students to Work in USA Right After Graduating in Asia


Stony Brook University, one of the flagships of the United States' largest comprehensive university system (SUNY),opened a new Korea campus in 2012 that...

Chihmao Hsieh

27 Aug 2019

Session 3: Innovation Marketplace
Udemy for Government


Udemy is working with governments worldwide, through Udemy for Government offering, a curated content collection of more than 3,500 courses, to support...

Richard Qiu

27 Aug 2019

Session 3: Innovation Marketplace
Towards ASEAN 4.0: ASEAN Digital Innovation Program


Youth, who account for more than 33% of ASEAN's population, undoubtedly play a key role in bringing the region closer to its aspirations as outlined in...

Nhi Le
Date
Session / Activity
Presentation Material
Speaker(s)

28 Aug 2019

Session 4: Regional Meetings

28 Aug 2019

Session 5A: TPD@Scale
TPD@Scale Coalition for the Global South


TPD@Scale Coalition for the Global South is a collaborative effort of education and technology stakeholders worldwide who are engaged in teacher professional...

Cher Ping Lim

28 Aug 2019

Session 5A: TPD@Scale
Review of Emerging​ Technologies to Address Personalization, Support, and Assessment


This presentation looks into the emerging technologies relevant to teacher professional development.

Ma. Mercedes Rodrigo

28 Aug 2019

Session 5A: TPD@Scale
Philippines Case Study:​ ELLN Digital


Learn more about the Philippine experience on the implementation of Early Language Literacy and Numeracy (ELLN) Digital.

Justin III Edward Modesto

28 Aug 2019

Session 5B: Innovative Models of Teacher Development in TVET
Making Teachers Development Work: The Experience of the ETF


What does the European Training Foundationdo to support teachers and trainers? Download this material to know more.

Cesare Onestini

28 Aug 2019

Session 5B: Innovative Models of Teacher Development in TVET
KOREATECH Innovation for TVET


Korea University of Technology and Education (KOREATECH) was established by the Korean Ministry of Labor in 1991 to develop education models and capacitate...

Haiwoong Park

28 Aug 2019

Session 5B: Innovative Models of Teacher Development in TVET
ITE's Response to the ​ New Wave of Industry ​Transformation
Iris Seet

28 Aug 2019

Session 5C: Tertiary Institutions-Led Start-ups and Incubation
INSPECTRA:​ Promoting AI Adoption in Developing Economy
Warasinee Chaisangmongkon

28 Aug 2019

Session 5C: Tertiary Institutions-Led Start-ups and Incubation
Stimulating Entrepreneurship Activity at SUNY Korea


Learn how the State University of New York (SUNY) Korea is promoting entrepreneurship among its students.

Chihmao Hsieh

28 Aug 2019

Session 5C: Tertiary Institutions-Led Start-ups and Incubation
Pre-Entrepreneurship & Ripple Effect: Tools for Turbocharging Ecosystems
Rajesh Nair

28 Aug 2019

Keynote Address
Future of Skills and Jobs
Srinivas Reddy

28 Aug 2019

Session 6A: STEM Education in K–12
Reasoning and Communication in STEM


Learn from the experience of Malaysia in integrating communication and reasoning in STEM education.

Noraini Binti Idris

28 Aug 2019

Session 6A: STEM Education in K–12
Roong Aroon School


Check our Roong Aroon School is promoting lifelong learning in its curriculum.

Suwanna Chivapruk

28 Aug 2019

Session 6A: STEM Education in K–12
Integrating STEM into K-12 Schools


STEM is integrated into K-12 schooling because of certain labour and citizenship goals.

Paul Teng

28 Aug 2019

Session 6B: Leveraging Technologies for Labor Market Information
Labor Market Demand Driven Skill Development


By using Big Data technologies and analytics for millions of online employer ads, real-time labor market informationcan help to achieve a more complete...

Sang Hyon Lee

28 Aug 2019

Session 6B: Leveraging Technologies for Labor Market Information
Skills Gap Assessment and Development for Industry 4.0


Masahiro Fukuhara, Founder of Institution for a Global Society, presents some cases that showthe importance of identifying skills mismatch and how this...

Masahiro Fukuhara

28 Aug 2019

Session 6B: Leveraging Technologies for Labor Market Information
Skills Needs Forecasting for the Digital Economy
Gary Gan

28 Aug 2019

Session 6C: Cross-Sectoral Collaboration
Build4Skills : An Innovative Idea Shaped Into Being


Learn more about Build4Skills, and how it aimsto leverage the potential of TVET in infrastructure programs for practice oriented training of national ...

Per Borjegren

28 Aug 2019

Session 6C: Cross-Sectoral Collaboration
Energy Human Resource Development and Gender Mainstreaming under ADB-funded TVET project in Tajikistan


This presentation shares some achievements and good practices from an ADB-funded TVET project in Tajikistan, with focus on human resource development ...

Eiko Izawa

28 Aug 2019

Session 6C: Cross-Sectoral Collaboration
Cross Sectoral Collaboration:​ Road Safety as an Example


This presentation share how to promote road safety through cross-sectoral collaboration.

James Leather

28 Aug 2019

Session 6C: Cross-Sectoral Collaboration
Cross Sectoral Collaboration:​ Adapting to Aging Asia


This presentation shares how ADB is responding to the challenge of the region's aging population while providing opportunities for skills development.

Wendy Walker

28 Aug 2019

Session 6C: Cross-Sectoral Collaboration
Twelve Pathways to a Circular Economy: Using Waste to Energy Interventions to Reduce the Burden on our Ecosystem
Steve Peters

28 Aug 2019

Session 7A: How Can Technology Enhance Inclusivity?
Creating A More Inclusive World


Microsoft offers tools that make technology more inclusive and accessible.

Aleandre Kwan

28 Aug 2019

Session 7A: How Can Technology Enhance Inclusivity?
How Can Technology Enhance Inclusivity?


Schoo of Concepts (SoC) is a preschool literacy curriculum provider. It runs as a social enterprise, offering programs to both the B2Band B2C sectors.

Mint Lim

28 Aug 2019

Session 7A: How Can Technology Enhance Inclusivity?
Media as a Tool to Increase Inclusivity


Learn howBig Bad Boo Studios promotes education development and inclusivity.

Devin Woods

28 Aug 2019

Session 7B: ADB's Experience in TVET Projects in East Asia Region
Key Features of ADB-supported TVET Projects in the People's Republic of China


Learn more about the key features ADB-supported TVET Projects in the People's Republic of China.

Sangay. Penjor

28 Aug 2019

Session 7B: ADB's Experience in TVET Projects in East Asia Region
Enterprises Involved in TVET: Chinese Experiences


Learn from the experiences of enterprises in TVET in the People's Republic of China.

Liu Yufeng

28 Aug 2019

Session 7B: ADB's Experience in TVET Projects in East Asia Region
Practical Exploration and Experience ​on Guangxi Modern TVET Development Demonstration Program
Huang Xiongbiao

28 Aug 2019

Session 7C: Practically Oriented Higher Education
PHINMA Ed: Accessible, Employment-oriented Philippine Education
Trissa Menardo

28 Aug 2019

Session 7C: Practically Oriented Higher Education
KMUTT Work-integrated Learning Model for Empowering Thai Food and Agricultural Business
Suvaluk Asavasanti

28 Aug 2019

Session 7C: Practically Oriented Higher Education
Current Trend, Challenges, and Prospects of Student Mobility in Higher Education in the ASEAN region
Indy Hardono

28 Aug 2019

Session 7C: Practically Oriented Higher Education
Policy of Mongolian Higher Education Reform
Amarjargalan Tumurbaatar and Ariunbolor Davaa
Date
Session / Activity
Presentation Material
Speaker(s)

29 Aug 2019

Keynote Address
Future-Proofing for a New Era


Mano Amiga, which translates to Helping Hand, is an affordable K to 12 school with international standards. By providing scholarships and sustainable ...

Eleanor Rosa Pinugu

29 Aug 2019

Session 8A: Student Assessment in K–12
Assessment Systems That Promote Skills Development


Check out the key characteristics of student assessment that supportskills development based on the experience of the Republic of Korea.

KyungSuk Chang

29 Aug 2019

Session 8A: Student Assessment in K–12
The Human Capital Index


The Human Capital Index looks at the road ahead, drawing attention to the future consequences of investments in human capital today.

Gabriel Demombynes

29 Aug 2019

Session 8A: Student Assessment in K–12
Empower Educators to Proactively Intervene


Check out how Snapwiz works to help teachers make use of engaging tech-based assessments.

Satish Kumar

29 Aug 2019

Session 8A: Student Assessment in K–12
Annual Status of Education Report


Existing learning measurements (measures, methods and mechanisms) have evolved over time in developed country contexts based on their needs and capabilities...

Wilima Wadhwa

29 Aug 2019

Session 8B: ADB's Experience in TVET Projects in South Asia Region
Supporting Human Capital Development in Meghalaya
D. P. Wahlang

29 Aug 2019

Session 8B: ADB's Experience in TVET Projects in South Asia Region
Himachal Pradesh Kaushal Vikas Nigam


This presentation gives an overview about the Himachal Pradesh Project.

Rohan Chand Thakur

29 Aug 2019

Session 8B: ADB's Experience in TVET Projects in South Asia Region
Skilled in Odisha


Check out howOdisha Skill Development Authorityis promoting lifelong learning.

S.K. Das

29 Aug 2019

Session 8C: Implications of Industry 4.0 on Skills Development
So What Do We Do Now?


Check out how technology could improve both teaching and learning.

Steven McKee

29 Aug 2019

Session 8C: Implications of Industry 4.0 on Skills Development
Southeast Asia​ Creative Camp
Gatot Hari Priowirjanto

29 Aug 2019

Session 8C: Implications of Industry 4.0 on Skills Development
Implications of Industry 4.0 on Skills Development
Elmer K. Talavera

29 Aug 2019

Session 8C: Implications of Industry 4.0 on Skills Development
Implications of Industry 4.0 on Skills Development
Noraini Binit Kaprawi

29 Aug 2019

Session 8C: Implications of Industry 4.0 on Skills Development
Preparing for AI: Developing Insights for Key Asian Economies on the Jobs and Skills Implications


How could artificial intelligence impact employment in Asia? Download this material to learn more.

Konstantin Matthies