Events
SDTG Online Thematic Training: Integrating the Graduation Approach into ADB Operations
12 December 2022

to

15 December 2022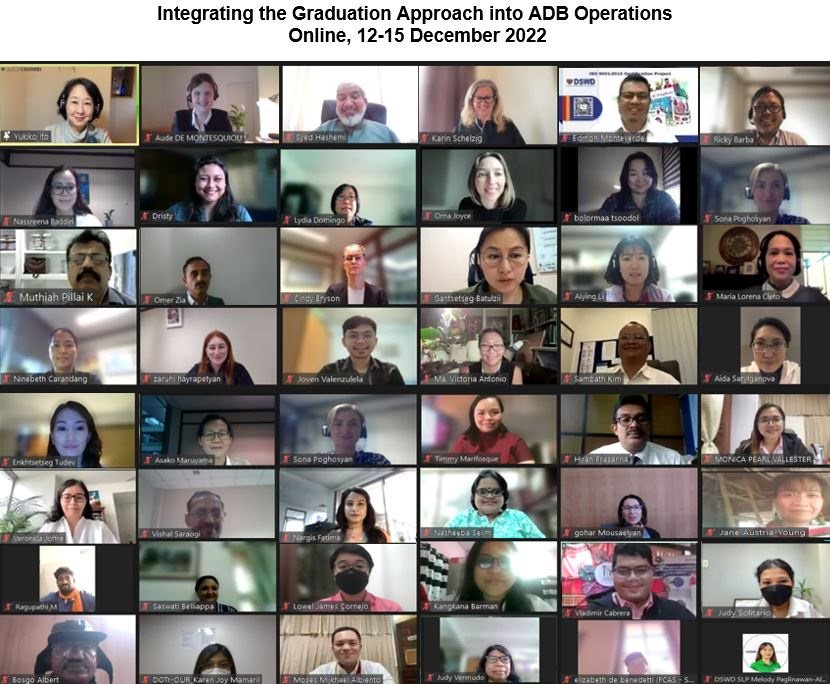 The Social Development Thematic Group, through the Graduation Working Group, held a two-day e-learning course on Integrating the Graduation Approach into ADB Operations which focused on (i) understanding the core concepts of graduation approach and its integration in social protection programming, evidence, and innovation; and (ii) exploring how to integrate graduation approach into ADB's portfolio. 
The training consisted of one core session and one deep dive session with an additional option for 30-minute one-on-one consultation sessions with course facilitators. This moderated e-learning course was held on 12-13 December 2022.
The training covered:
Concept and History of Graduation 
Overview of Global Evidence 
Building Graduation into social protection systems 
Digital Innovations – Introduction to client facing innovations (apps, behaviorally informed interventions), and client monitoring (data architecture, building in predictive analytics) 
Product Demo of online tools on the graduation approach 
The learning format was a mix of moderated discussions, facilitated breakout discussions, and group exercises. 
Program and Learning Materials: