Events
Online ADB Sanitation Dialogue 2021 (ASD 2021)
12 April 2021

to

22 May 2021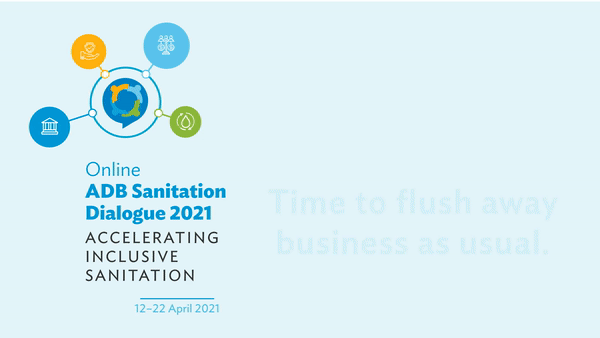 Background
As the 21st-century transitions into a new decade, 453 million people across Asia and the Pacific still defecate in the open. About 1.2 billion people have no access to basic sanitation services. Of these numbers, 72% live in rural areas.
The United Nations estimate that by current indications, many developing countries will fall short of reaching the Sustainable Development Goal on sanitation for all by 2030 (SDG 6.2). It is imperative that programs and projects for sanitation in the region must be pursued immediately.
The situation also stresses the demand to doing things differently. We need to flush away business as usual to ensure that investments are directed toward communities where interventions are needed the most.
In addition, the coronavirus disease  (COVID-19) pandemic has made water, sanitation, and hygiene a critical means to prevent the transmission of the virus and strengthen public health, especially among the vulnerable.
Theme: Accelerating Inclusive Sanitation
The Online ADB Sanitation Dialogue 2021 (ASD 2021) focused on the theme of "Accelerating Inclusive Sanitation." ASD 2021 is an opportunity to raise awareness and action on increasing access to inclusive sanitation. This means everyone has access to and benefits from sustainable sanitation services and human waste are safely managed along the whole sanitation service chain.
Adapting to the new normal, ASD 2021 was redesigned as a series of webinars over the course of two weeks that was available for all.
As the fourth edition of the dialogue, ASD 2021 aims to amplify awareness on citywide inclusive sanitation (CWIS), a systemic approach based on equity, safety, and sustainability. To avoid the unwelcome 2030 scenario of leaving people behind without adequate sanitation, this dialogue focused on practical solutions, addressing bottlenecks, and building capacity to reinforce the motivation for sanitation for all.
Objectives
ASD 2021 aimed to share knowledge on developing and implementing inclusive sanitation through:
upfront presentations of the consequences of poor sanitation and polluted water sources;
heavy use of case studies to demonstrate solutions, including the CWIS approach;
focus on introducing resilience planning in CWIS strategy using urban climate change resilience tools;
use of smaller workshops to ensure greater focus on issues confronting developing members;
opportunities for ADB and partners to explain how they can be of practical assistance to developing members; and
ensuring developing member delegates leave with a sense of purpose and clear views on what actions they can take to accelerate their sanitation work programs.
Participants
ASD 2021 gathered representatives from ADB developing member countries, specialists, project officers, and decision-makers. Major partners, such as the Bill & Melinda Gates Foundation and the Urban Climate Change Resilience Trust Fund, as well as other multilateral development banks, related organizations, private sector, and civil society also attended.
Participants discussed the latest sanitation strategies, tools, new technologies, and alternatives, integrating resilience, as well as ways to tap financing and leverage partnerships.
Social media
To know more, follow ADB Water on Twitter, Facebook, and LinkedIn. For news on water and sanitation, subscribe to our newsletter.

Program and Learning Materials:
Date
Session / Activity
Presentation Material
Speaker(s)

12 Apr 2021

12 April 2021
WEBINAR 1: Taking a Fresh Look at How We Fix Sanitation


Lack of access to safe, adequate, and affordable water, sanitation, and hygiene (WASH) services has a devastating effect on the health, dignity, and prosperity...

12 Apr 2021

13 April 2021
WEBINAR 2: Coordination, Cooperation, and Collaboration for CWIS


1:00–2:30 p.m. (Manila time, GMT +8) Establishing a policy, institutional, and regulatory framework (also referred to as the "enabling environment...

12 Apr 2021

15 April 2021
WEBINAR 3: CWIS: Mix and Match Approach to Sanitation Technologies


Investments in the wastewater and sanitation sector continue to favor large sewered systems, especially in bigger cities. These leave behind people in...

12 Apr 2021

19 April 2021
WEBINAR 4: Sex, Sanctity, and Sanitation for All


The focus of citywide inclusive sanitation (CWIS) on equity and inclusion requires more than a business-as-usual approach to sanitation. Having gender...

12 Apr 2021

20 April 2021
WEBINAR 5: Strategies to Keep Sanitation Services Operating


Investments in sanitation and wastewater treatment are typically three to four times more than those for water treatment systems. In many Asian settings...

12 Apr 2021

22 April 2021
WEBINAR 6: Why We Need to Think Differently about Sanitation


Accelerating inclusive sanitation requires the drive and commitment of everyone and the coming together of organizations. It calls for engagement of households...
Date
Session / Activity
Presentation Material
Speaker(s)

13 Apr 2021

12 April 2021
WORKSHOP 1: How-to-Series: Sharing Climate Strategies for Sanitation


Delivering universal access to sustainable and safely managed sanitation services remains a huge challenge. It is compounded by climate change and disaster...

13 Apr 2021

13 April 2021
WORKSHOP 2: How-to Series: Planning and Designing CWIS in Practice


Citywide inclusive sanitation (CWIS) is a relatively new approach to delivering urban sanitation interventions in low- and middle-income countries. It...

13 Apr 2021

15 April 2021
WORKSHOP 3: How-to Series: Leveraging the Links between Water, Sanitation, Hygiene, and Health


Many see the provision of sanitation services as a technical challenge calling for the skills of engineers to design, build, and operate facilities. However...

13 Apr 2021

19 April 2021
WORKSHOP 4: How-to-Series: Towards Achieving Gender and Social Inclusion in Urban Sanitation


This two-hour interactive workshop was for senior and mid-level professionals who want to learn about opportunities for gender and social inclusion (GESI...

13 Apr 2021

20 April 2021
WORKSHOP 5: How-to Series: The Business of Sanitation Economy


Sanitation, in general, has not been a subject that stirs conversation. Often, it is set aside, along with the details that go with it, such as human ...

13 Apr 2021

22 April 2021
WORKSHOP 6: How-to Series: Get More Performance from Wastewater Assets


Wastewater and septage treatment assets play an important role in safeguarding public health and the environment, regardless of whether decentralized ...