Events
Block Heater Technology Business Fair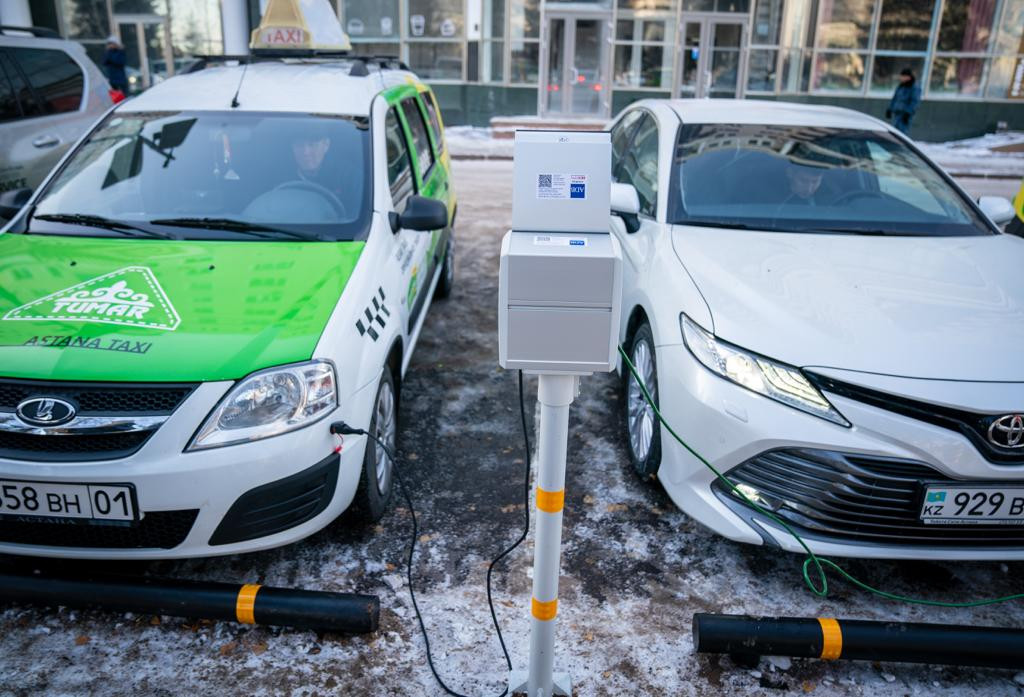 During the cold winter days most citizens often idle their car engines for long periods to warm the engine and interior. This unnecessarily wastes fuel, costs money, causes excess engine wear and tear, and produces greenhouse gases (GHG) emissions and harmful air pollutants.
The proposed Block Heating Technology (BHT) for pre-heating the engine during the winter time can decrease both GHG emissions and ground level air pollutants. While avoiding engine idling, it saves fuel, reduces air pollution and GHG emissions, and extends the life of the vehicle. Nur-Sultan's 350,000 registered vehicles can potentially reduce 430,00 tons of carbon emissions per year and save over 220 million liters of fuel.
Both public and private investments can be combined to introduce this technology within the city and spread the benefits to other cold cities in the region. Country-wide deployment of the BHT allows new technology transfer, creation of new jobs including project financing, local manufacturing, and further deployment of the same electrical piles for electric car charging.
The Block Heater Technology Business Fair is part of the block heater technology pilot demonstration under ADB's Regional Technical Assistance (RETA 9308): Promoting Low-Carbon Development in Central Asia Regional Economic Cooperation Program Cities. The pilot project facilitated the installation of engine block heaters and electric heater comfort kits in several vehicles from Astana Taxi, Toyota City, the Kazakhstan National Railway, and the Akimat of Nur-Sultan. Electrical charging piles were also installed in public and government parking zones.
The business fair linked international suppliers with national/local governments and local enterprises for possible partnerships. Experience in installing the engine block heaters and electrical chargers through the pilot project were also shared. Potential investment and cooperation support programs were also presented.
Program and Learning Materials:
Date
Session / Activity
Presentation Material
Speaker(s)

03 Sep 2020

Session I (Introduction)
Welcome and Opening Remarks
Aidyn Begimbekov (Deputy Head, Environmental Protection and Nature Use Unit, Nur-Sultan Akimat)

03 Sep 2020

Giovanni Capannelli (Country Director, Kazakhstan Resident Mission, ADB)

03 Sep 2020

Soili Mäkeläinen-Buhanist (Ambassador-Designate of Finland to Kazakhstan)

03 Sep 2020

Session II
Overview on Promoting Low-Carbon Development in Nur-Sultan and Kazakhstan Implementation of ADB Low Carbon Cities Technical Assistance in Kazakhstan and Other Cities: Tasks, Goals and Objectives
Moderator: Kenzhekhan Abuov (Project Officer, Kazakhstan Resident Mission, Central West Regional Department, ADB)

03 Sep 2020

Implementation of ADB Low Carbon Cities Technical Assistance in Kazakhstan and Other Cities: Tasks, Goals and Objectives
Implementation of ADB Low Carbon Cities Technical Assistance in Kazakhstan and Other Cities: Tasks, Goals and Objectives (English Translation)


ADB's Na Won Kim gavean overview of low-carbon development in Central Asian and ADB's project on supporting city governments in mainstreaming climate ...

Na Won Kim

03 Sep 2020

Implementation of ADB Low Carbon Cities Technical Assistance in Kazakhstan and Other Cities: Tasks, Goals and Objectives (Russian Translation)


ADB's Na Won Kim gavean overview of low-carbon development in Central Asian and ADB's project on supporting city governments in mainstreaming climate ...

Na Won Kim

03 Sep 2020

GHG Inventory and the Paris Agreement, NDC Targets
GHG Inventory and the Paris Agreement, NDC Targets (English Translation)


Gulimira Ismagulova gave an overview of the trends in GHG Emissions in Kazakhstan and the Paris-Kazakhstan Agreement, where Kazakhstan should reduce national...

Gulmira Ismagulova

03 Sep 2020

GHG Inventory and the Paris Agreement, NDC Targets (Russian Translation)


Gulimira Ismagulova gave an overview of the trends in GHG Emissions in Kazakhstan and the Paris-Kazakhstan Agreement, where Kazakhstan should reduce national...

Gulmira Ismagulova

03 Sep 2020

Introduction to Block Heater Technology (BHT), Global Experience, Ecological Effect
Introduction to Block Heater Technology (BHT), Global Experience, Ecological Effect (English Translation)


Ivor da Cunha gave an introduction of Block Heater Technology and its environmental, social, and economic benefits.

Ivor da Cunha

03 Sep 2020

Introduction to Block Heater Technology (BHT), Global Experience, Ecological Effect (Russian Translation)


Ivor da Cunha gave an introduction ofBlock Heater Technology and its environmental, social, and economic benefits.

Ivor da Cunha

03 Sep 2020

Video Material Presentation
Video Presentation about Block Heaters in Nur-Sultan, Kazakhstan (English Translation)


This is a video presentation about the Block Heaters in Nur-Sultan, Kazakhstan.

03 Sep 2020

Video Presentation about Block Heaters in Nur-Sultan, Kazakhstan (Russian Translation)


This is a video presentation about the Block Heaters in Nur-Sultan, Kazakhstan.

03 Sep 2020

Discussion
Q&A and Open Floor Discussions

03 Sep 2020

Session III
Future of Technology Transfer
Moderator: Na Won Kim (Senior Urban Development Specialist, Project Leader, ADB)

03 Sep 2020

FIBOX (Finland Private Company: Block Heater Charging Station Infrastructure)
FIBOX (Finland Private Company: Block Heater Charging Station Infrastructure) (English Translation)


Matti Roth discussed FIBOX group and the benefits of car heater boxes.

Matti Roth

03 Sep 2020

FIBOX (Finland Private Company: Block Heater Charging Station Infrastructure) (Russian Translation)


Matti Roth discussed FIBOX group and the benefits of car heater boxes.

Matti Roth

03 Sep 2020

Challenges to Facilitate Electrical Supply for BHT (Nur-Sultan Engineering and Construction Case Study)
Ensuring Power Supply for BHT (English Translation)


Vitaliy Yavorskiy explained the challenges they encountered in installing the BH charging piles.

Vitaliy Yavorskiy

03 Sep 2020

Ensuring Power Supply for BHT (Russian Translation)


Vitaliy Yavorskiy explained the challenges they encountered in installing the BH charging piles.​

Vitaliy Yavorskiy

03 Sep 2020

Discussion
Q&A and Open Floor Discussions

03 Sep 2020

Session IV
Technology Deployment in Nur-Sultan
Moderator: Kenzhekhan Abuov (Project Officer, Kazakhstan Resident Mission, Central West Regional Department, ADB)

03 Sep 2020

Investment and Cooperation Support
Investment and Cooperation Support (English Translation)


Deputy Head Kaisa Standish discussed on how Finland's private sector partnership can help to achieve the SDGs in Kazakhstan.

Kaisa Standish

03 Sep 2020

Investment and Cooperation Support (Russian Translation)


Deputy Head Kaisa Standish discussed on how Finland's private sector partnership can help to achieve the SDGs in Kazakhstan.

Kaisa Standish

03 Sep 2020

Invest Kazakhstan
Invest Kazakhstan (English Translation)


Amir Akhmetovdiscussedan overview of National Company KAZAKH INVEST JSC.

Amir Akhmetov

03 Sep 2020

Invest Kazakhstan (Russian Translation)


Amir Akhmetov discussed an overview of National Company KAZAKH INVEST JSC.

Amir Akhmetov

03 Sep 2020

State Support of Investments
Alida Tuyebekova (acting Managing Director, Service Support Department, NC KAZAKH INVEST JSC)

03 Sep 2020

State Support of Investments (Russian Translation)
Alida Tuyebekova

03 Sep 2020

BHT Investment Models, Environmental, Social And Economic Benefits
BHT Investment Models, Environmental, Social And Economic Benefits (English Translation)


Ivor da Cunha discussed the business modelsof Block Heater Technology and its environmental, social, and economic benefits.

Ivor da Cunha

03 Sep 2020

BHT Investment Models, Environmental, Social And Economic Benefits (Russian Translation)


Ivor da Cunha discussed the business modelsof Block Heater Technology and its environmental, social, and economic benefits.

Ivor da Cunha

03 Sep 2020

Discussion
Q&A and Open Floor Discussions

03 Sep 2020

Session V
Localization of Technology in Nur-Sultan
Moderator: Ivor da Cunha (Consultant, ADB)

03 Sep 2020

DEFA Preheating and Charging Solutions
DEFA Preheating and Charging Solutions (Private Company Norway: BHT Supplier) (English Translation)


Mikael Nilsson gave an overview of DEFA Preheating and Charging Solutions.

Mikael Nilsson

03 Sep 2020

DEFA Preheating and Charging Solutions (Private Company Norway: BHT Supplier) (Russian Translation)


Mikael Nilsson gave an overview of DEFA Preheating and Charging Solutions.

Mikael Nilsson

03 Sep 2020

CALIX Car Heating Systems
CALIX Car Heating Systems (Private Company Sweden: BHT Supplier) (English Translation)


Jens Elven gave an overview of CALIX Car Heating Systems.

Jens Elvén

03 Sep 2020

CALIX Car Heating Systems (Private Company Sweden: BHT Supplier) (Russian Translation)


Jens Elven gave an overview of CALIX Car Heating Systems.

Jens Elvén

03 Sep 2020

Experience in Applying Engine Heaters in Nur-Sultan city
Marat Kushchanov (Head, Spare Parts Division, Royal Cars Astana LLP (Toyota City Astana Dealer Center)

03 Sep 2020

Closing
Closing Remarks
Kenzhekhan Abuov (Project Officer, Kazakhstan Resident Mission, Central West Regional Department, ADB)