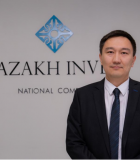 Project Manager, Project Department No. 2
, National Company KAZAKH INVEST JSC
Profile / Bio:
Mission of the National Company KAZAKH INVEST JSC is to promote sustainable socio-economic development of the Republic of Kazakhstan by attracting foreign investment in priority sectors of the economy and comprehensive support of investment projects.
(Russian Translation)
Амир Ахметов - руководитель проектов Департамента по работе с проектами №2 АО «Национальная компания "KAZAKH INVEST"».
Миссия АО «Национальная компания «KAZAKH INVEST» заключается в содействии устойчивому социально-экономическому развитию Республики Казахстан путем привлечения иностранных инвестиций в приоритетные сектора экономики и комплексного сопровождения инвестиционных проектов.