Events
SEADS 2021: Deep Dive Workshop on Reinventing Smart Cities after COVID-19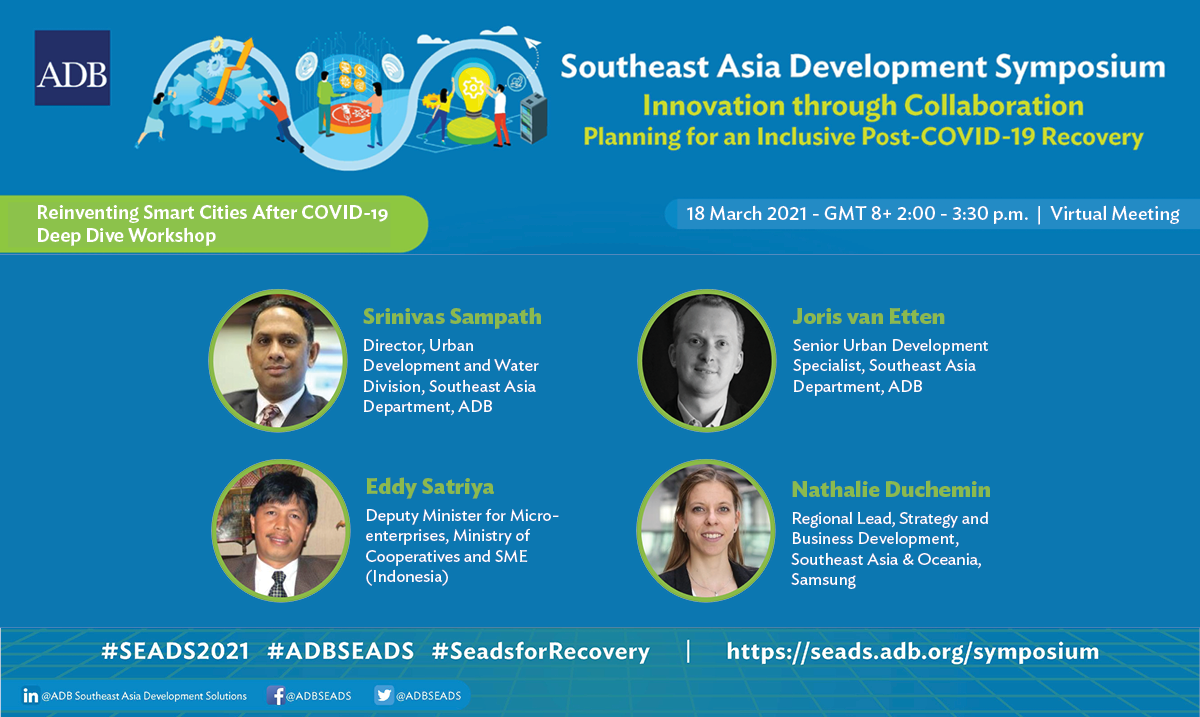 [Session recording to be uploaded soon]
The COVID-19 pandemic is symbolic of the major shocks and stresses that cities can expect to encounter in the future. COVID-19 has exposed and magnified the underlying vulnerability of our rapidly urbanizing and highly interconnected world. As cities and governmental bodies shift from immediate response to long-term recovery, calls to "build back better" grow louder. 
The key to building back better is to 'build back smarter.' While local governments around the world are taking steps to address these challenges, they would often not have the financial and operational capacity required to initiate the necessary measures and programs to put their cities on the path to recovery. This provides a good opportunity for governments to seek a mutually beneficial cooperation with the private sector --  from big corporations to micro, small and medium enterprises (MSMEs) to help accelerate post-pandemic recovery through innovative and smart solutions.
Building back smarter holds the key to shock-proofing Southeast Asia's urban centers. In keeping with the spirit of reinventing smart cities post-pandemic, the session focused on how governments can forge successful partnerships with the private sector and leverage on the innovation, expertise, and resource that they provide to build back smarter. Also explored the role of the private sector in building truly livable and resilient smart cities that can withstand future shocks and stresses. 
This interactive session provided a platform for policy makers and local government officials to share ideas, knowledge and experience and collaboratively learn from each other. Conclusions from the discussions will be included in the private sector strategy which is currently being drafted for the ADB management ASEAN Australia Smart Cities Trust Fund. 
Program and Learning Materials: