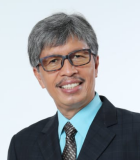 Deputy Minister, Business Restructuring
Ministry of Cooperatives and SME, Indonesia
Profile / Bio:
Eddy Satriya dedicated most of his career in information and communication technology (ICT), energy, utility, infrastructure, and bureaucratic reform for more than 25 years.
He was previously the Deputy Assistant for ICT and Utility and the Division Head for International Cooperation at the Indonesian Coordinating Ministry for Economic Affairs. He was also the Deputy Director for Development and Utilization of Energy at the Directorate of Energy, Telecommunication and Informatics of BAPPENAS, Indonesia's National Development Planning Agency.
He has authored numerous research, articles, and columns about various topics, including ICT, new economy, infrastructure issues, and reform agendas.
He obtained his master's degree in economics from the University of Conneticut in the United States.
LinkedIn:
https://www.linkedin.com/in/eddy-satriya-18079957/