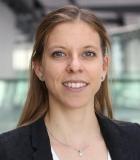 Regional Lead, Strategy and Business Development, Southeast Asia and Oceania
Profile / Bio:
Nathalie Duchemin heads Strategy and Business Development across South East Asia & Oceania for Samsung Electronics' Mobile Enterprise division. She drives the expansion of Samsung's world class business solutions while establishing thought leadership and building new growth areas for the enterprise mobility business. She works closely with local partners and business representatives to advocate for mobile-first solutions that drive meaningful digital transformation in Southeast Asia and Oceania countries.
Prior to joining Samsung, Nathalie worked for major management consulting firms such as Capgemini and EY Consulting. Nathalie brings with her an extensive experience in helping organizations create business values through digital transformation and innovation.
She holds an MBA from the ESSEC Business School, France and a diploma in finance from University of Mannheim, Germany.
LinkedIn:
https://www.linkedin.com/in/nathalie-duchemin/