Events
UK-ADB Learning Exchange on Health: Vaccine Planning and Delivery Systems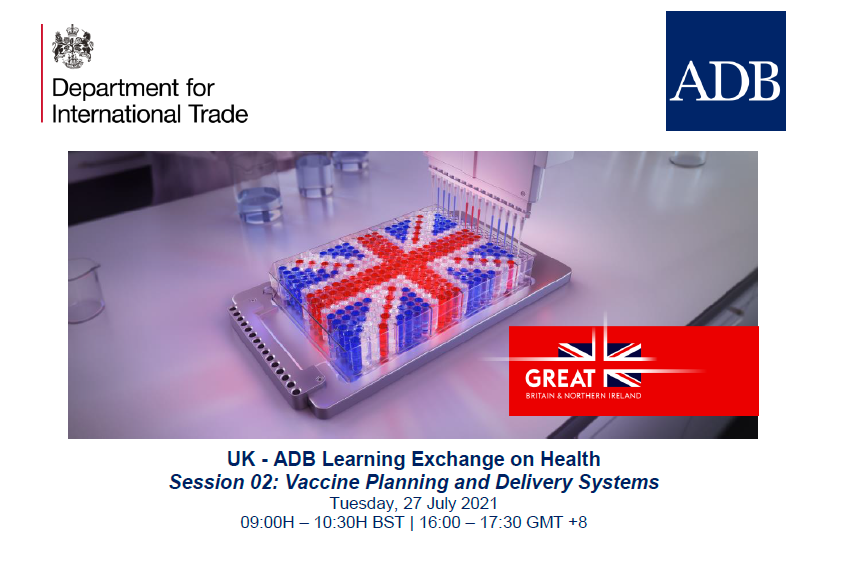 Critical to ending the COVID-19 pandemic is equitable access to safe and effective vaccines. ADB has been working with the private sector to provide support for vaccine storage, logistics, distribution, and technical assistance to developing member countries to roll out vaccine programs and strengthen regulatory capacity.
The UK-wide strategic approach to pandemic planning and response includes an effective vaccination roll-out; thus protecting the public and saving millions of lives. While the UK has a successful record of delivering vaccination programs, embarking on the biggest vaccination program in history comes with unprecedented challenges. Recovery will be achieved as we learn and build on the actions taken so far, as well as by continually planning for the next course of the pandemic.
Scope and Objectives
The second UK-ADB Learning Exchange on Health aims to share a UK provider's success story in creating effective vaccination planning and delivery systems.
UK specialist IQARUS have adequate solutions and the experience to address the region's prevalent vaccination delivery challenges, such as:
1. Optimising existing public & government frameworks to improve planning, coordination, and implementation of vaccination activities;
2. Deploying quick training and capacity building for healthcare and logistics workforce; and
3. Ensuring logistical and delivery success up until last-mile communities.
At the end of the session, the UK and the ADB proposed a forward look and identify the next steps in developing a more robust vaccine deployment strategy in Asia and the Pacific.
Program and Learning Materials: