Events
UK-ADB Learning Exchange: The Digital Transformation of Health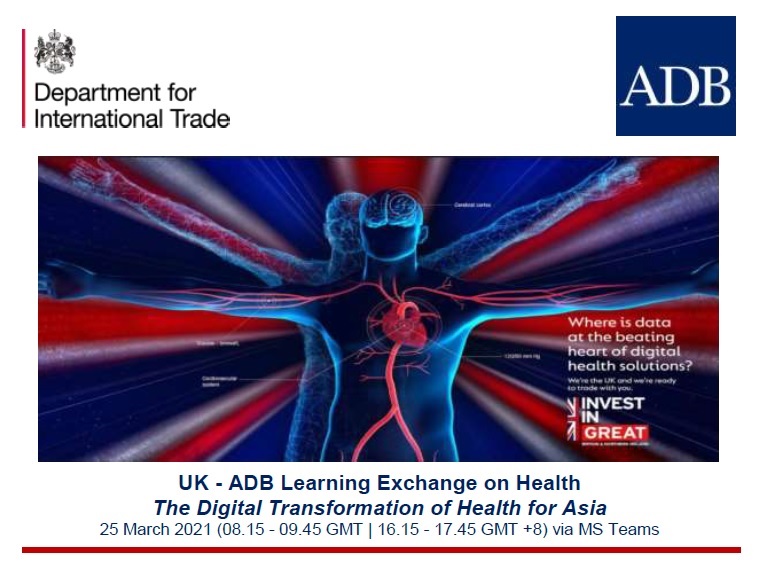 Digital technologies are underpinning almost all aspects of daily life, including healthcare. The UK has seen great success in digitally transforming its National Health Service (NHS) by harnessing innovations to deliver better healthcare.
COVID-19 highlighted the importance of capacitating digital health delivery, hence its urgent need by developing Asia.
In this learning exchange, NHS shared its experience in its pivot towards digital health and its positive impact in the healthcare system. 
Program and Learning Materials:
Date
Session / Activity
Presentation Material
Speaker(s)

25 Mar 2021

Presentation 1
Huma


Huma is a digital health company founded in 2011 that aims to create a world where every person lives their life to the fullest. They also aim to revolutionize...

25 Mar 2021

Presentation 2
Vita Healthcare Solutions


Vita Healthcare works in partnership with the NHS to provide mental and physical health services, work with the UK's largest companies to help support...

25 Mar 2021

Presentation 3
Difrent


Difrent, in this presentation, described their healthcare organization and how they use research, data, service design, and technology to provide solutions...

25 Mar 2021

Presentation 4
Elsevier Health


Elsevier Health's mission is to empower clinicians to make better decisions, prepare future health professionals, and improve patient outcomes. They shared...