Events
Transitioning from a linear to circular economy in post pandemic Southeast Asia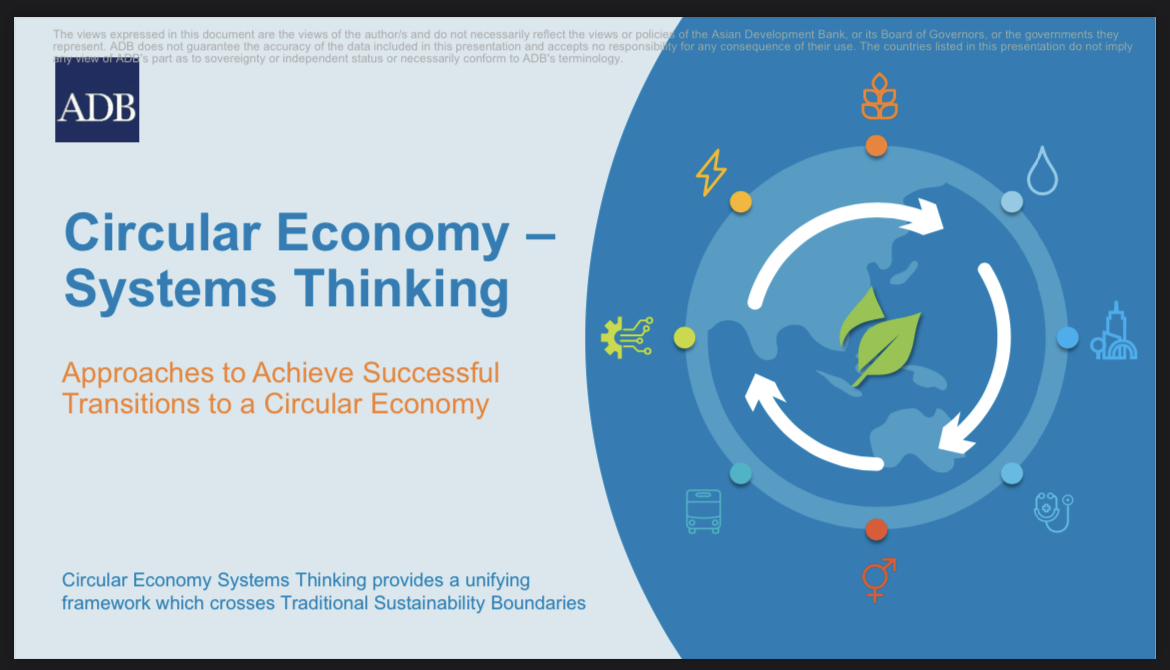 The 19th Policy Actions for COVID-19 Economic Recovery (PACER) Dialogue on "Transitioning from a linear to circular economy in post pandemic Southeast Asia" featured global good practice examples and policy options in accelerating the uptake of circular economy transition and solutions. Over 60 government officials from Southeast Asia and the People's Republic of China participated in the Dialogue, sharing country experiences on circular economy policies and solutions taken to accelerate COVID-19 recovery and rejuvenation.
The  19th PACER Dialogue aimed to:
promote policy options to facilitate circular economy transition in the new normal;
disseminate lessons, actionable policy solutions, and country experiences on how to promote and accelerate circular economy transition; and
provide a platform for policy makers, development planners, and practitioners to share knowledge and experience and collaboratively learn from each other.
Program and Learning Materials:
Date
Session / Activity
Presentation Material
Speaker(s)

27 Jul 2022

19th PACER Dialogue – Overview and Objectives
Jason Rush, Principal Operations Communications Specialist, Southeast Asia Department, Asian Development Bank

27 Jul 2022

Transitioning from a linear to circular economy in post pandemic Southeast Asia
Circular Economy – Systems Thinking: Approaches to Achieve Successful Transitions to a Circular Economy


Presentation on how countries can accelerate circular economy transition using the "reduce-reuse-recycle approach" in policymaking post-COVID. Benefits...

James Baker

27 Jul 2022

Framework for Circular Economy for the ASEAN Economic Community (AEC)
Framework for Circular Economy for the ASEAN Economic Community


Presentation on the Framework which sets out an ambitious long-term vision for thecircular economy in the region, builds on the strengths of existing ...

Latifahaida Abdul Latif

27 Jul 2022

Agrifood Waste Upcycling Opportunities in Asia-Pacific
Agrifood Waste Upcycling Opportunities in Asia-Pacific


Country case studies on successes and lessons in implementing circular economy policies, financing approaches, and projects including results achieved...

Vandana Dhaul

27 Jul 2022

Open Discussion and Questions
Jason Rush (Moderator)

27 Jul 2022

Synthesis and Summary
Jason Rush, Principal Operations Communications Specialist, SERD, ADB