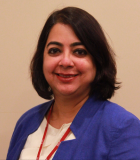 Profile / Bio:
Vandana brings experience in entrepreneurship, innovation, investment and agrifood tech accelerator management. She began her career in financial services and has relationship management and investment advisory experience across multinational banks. After her own successful startup journey, she led the design and delivery of entrepreneurship training programs at a leading VC in Singapore.
She has been instrumental in the establishment of Southeast Asia's first impact focused agrifood tech accelerator GROW, in partnership with AgFunder. As ID Capital's Chief Operating Officer, she oversees the investment advisory business as well as the Future Food Asia platform.
Vandana is a qualified CFA, holds a certificate in Agriculture Technology and has completed a strategy program at INSEAD. She is actively engaged in building capabilities to support growth in the Singapore and ASEAN agrifood ecosystem.