Events
Shaping a Better Employment Landscape for People with Disabilities in Asia-Pacific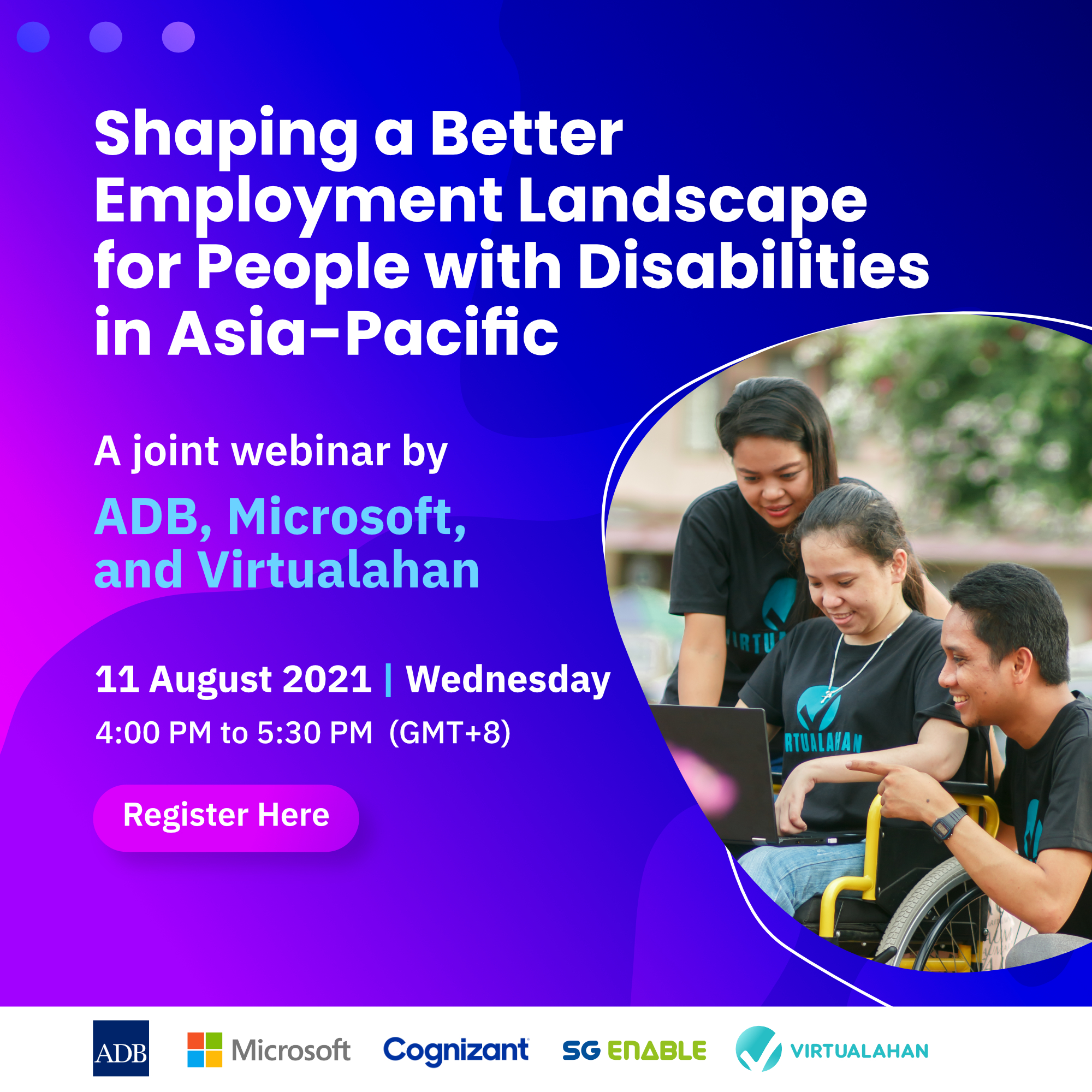 4:00 pm, Manila Time
The second webinar in the series 'Digital Technologies and Quality Jobs – Lessons Learnt and New Horizons' will focus on the topic of disabilities and labor market inclusion. The virtual event, "Shaping a Better Employment Landscape for People with Disabilities in Asia-Pacific" will be hosted in partnership with Microsoft and Virtualahan.
It will feature Microsoft's APAC Enabler Program and present the perspectives of different stakeholder groups engaged in the Program.
Alongside the three convening partners, Cognizant will share insights as a leading disability-inclusive employer in the region. SG Enable will highlight lessons as a non-profit government-established agency enhancing employability and employment options for persons with disabilities.
Objectives
The webinar aims to:
Share experiences and challenges of different stakeholder groups committed to increasing economic opportunity for persons with disabilities in the region – across the private sector, government, civil society, and academia
Explore the role of digital technologies in improving the inclusion of persons with disabilities in quality jobs 
Identify drivers and constraints to upscale regional collaboration and impact.
Program and Learning Materials:
| Date | Session / Activity | Presentation Material | Speaker(s) |
| --- | --- | --- | --- |
| 11 Aug 2021 | Opening | Welcome and Introductions | Moderator – Ryan Gersava, Founder and President, Virtualahan |
| 11 Aug 2021 | Opening | Opening Remarks | Wendy Walker, Chief of Social Development Thematic Group, Asian Development Bank (ADB) |
| 11 Aug 2021 | Opening | Keynote Address | Pratima Amonkar, Chair for D&I and Accessibility, Microsoft APAC + Accessible technologies demo |
| 11 Aug 2021 | Presentation 1 | | Winnie Lewis, Head, Disability Inclusion, Employment & Employability, SG Enable |
| 11 Aug 2021 | Presentation 2 | | Pratibha Kurnool, APAC Lead & Strategic Partnerships Lead for Social Impact, Outreach, Cognizant |
| 11 Aug 2021 | Q&A | | Facilitator: Ryan Gersava, Founder and President, Virtualahan |
| 11 Aug 2021 | Q&A | | Kick-off Question: Dr. Maria Kett, Associate Professor in H​umanitarianism and Disability, UCL, and Co-Founder, Global Disability Innovation Hub |
| 11 Aug 2021 | Closing | Closing Remarks | Shanti Jagannathan, Principal Education Specialist, Sustainable Development and Climate Change Department, ADB |