Series:
Digital Technologies and Quality Jobs – Lessons Learnt and New Horizons
A New Pathway for the Creative Economy: Recovery, Growth and Jobs?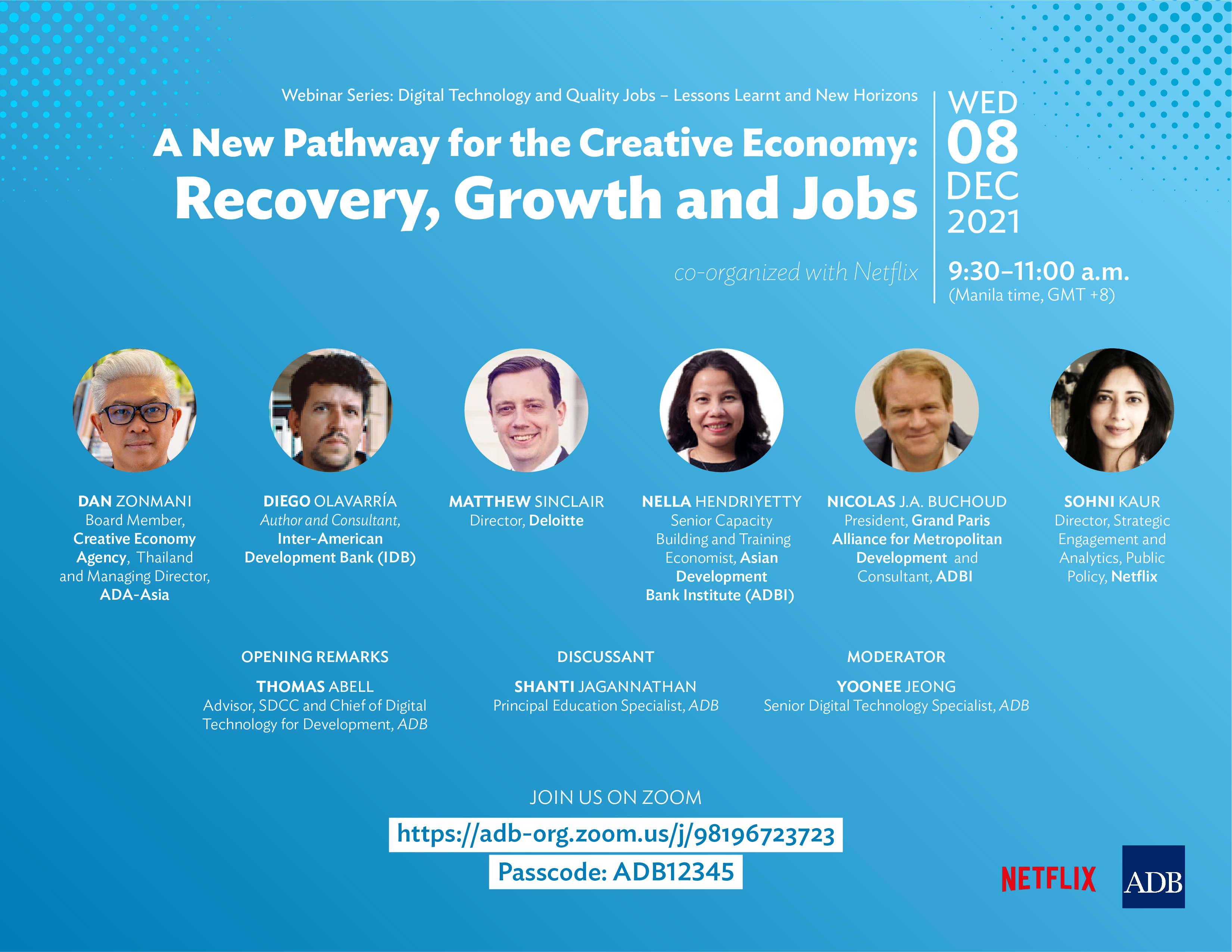 Before the pandemic hit, the creative economy was on track to account for 10% of global GDP by 2030. In recognition, the United Nations declared 2021 the International Year of Creative Economy for Sustainable Development.
The pandemic, however, changed the trajectory of the creative economy in two fundamental ways. First, the creative industries experienced significant contraction during the pandemic; UNESCO estimates that the 2020 Gross Value Added (GVA) contribution from the cultural and creative sector fell by USD750bn in the 20 economies it studies.
The pandemic also supercharged the digital transformation already underway in the creative economy, intensifying the shift towards digital in the way we consume content. Digital technologies have triggered innovation and structural changes in the creative value chain - from the emergence of producer tools to new distribution and dissemination platforms like streaming and the on-demand economy.
The digital transformation journey of the creative economy has far-reaching implications for growth, jobs, and international trade and presents a host of opportunities and challenges for DMCs. How does this trend inform the recovery strategies and long-term policy goals of DMCs that look to revive the creative economy? How can DMCs create a pathway that improves their competitiveness in the creative economy and ensures the inclusion of MSMEs, women, and youth? What kind of support is needed for DMCs to start winning in the creative economy 'SQUID GAME' in the mid-long term?
The webinar examined the far-reaching impacts of the pandemic and digital transformation in the creative economy and discussed the link with human capital development. Co-organized with Netflix, the event is part of the SDCC's Digital Technologies and Quality Jobs – Lessons Learnt and New Horizon webinar series.
Program and Learning Materials:
| Date | Session / Activity | Presentation Material | Speaker(s) |
| --- | --- | --- | --- |
| 08 Dec 2021 | Opening | Welcome and Setting the Scene | Yoonee Jeong, Senior Digital Technology Specialist, Digital Technology for Development Unit, Sustainable Development and Climate Change Department (SDCC), ADB |
| 08 Dec 2021 | Opening Session | Opening Remarks | Thomas Abell, Advisor and Chief (Digital Technology for Development), Sustainable Development and Climate Change Department (SDCC), ADB |
| 08 Dec 2021 | Presentations | | Matthew Sinclair, Director, Deloitte |
| 08 Dec 2021 | Presentations | | Diego Olavarria, Author and Consultant, Inter-American Development Bank (IDB) |
| 08 Dec 2021 | Presentations | | Nella Sri Hendriyetty, Senior Capacity Building and Training Economy, ADBI |
| 08 Dec 2021 | Presentations | | Dan Zonmani, Board Member, Creative Economy Agency, Thailand and Managing Director, ADA-Asia |
| 08 Dec 2021 | Panel Discussion and Audience Q&A | | Moderator: Yoonee Jeong, Senior Digital Technology Specialist, Digital Technology for Development Unit, Sustainable Development and Climate Change Department (SDCC), ADB |
| 08 Dec 2021 | Panel Discussion and Audience Q&A | | Shanti Jagannathan, Principal Education Specialist, Education Sector Group, Sustainable Development and Climate Change Department (SDCC), ADB |
| 08 Dec 2021 | Panel Discussion and Audience Q&A | | Sohni Kaur, Director, Strategic Engagement and Analytics, Public Policy, Netflix |
| 08 Dec 2021 | Closing | Wrap up | Yoonee Jeong, Senior Digital Technology Specialist, Digital Technology for Development Unit, Sustainable Development and Climate Change Department (SDCC), ADB |