Series:
East Asia Forum Series
East Asia Forum 2023
20 October 2023

to

21 October 2023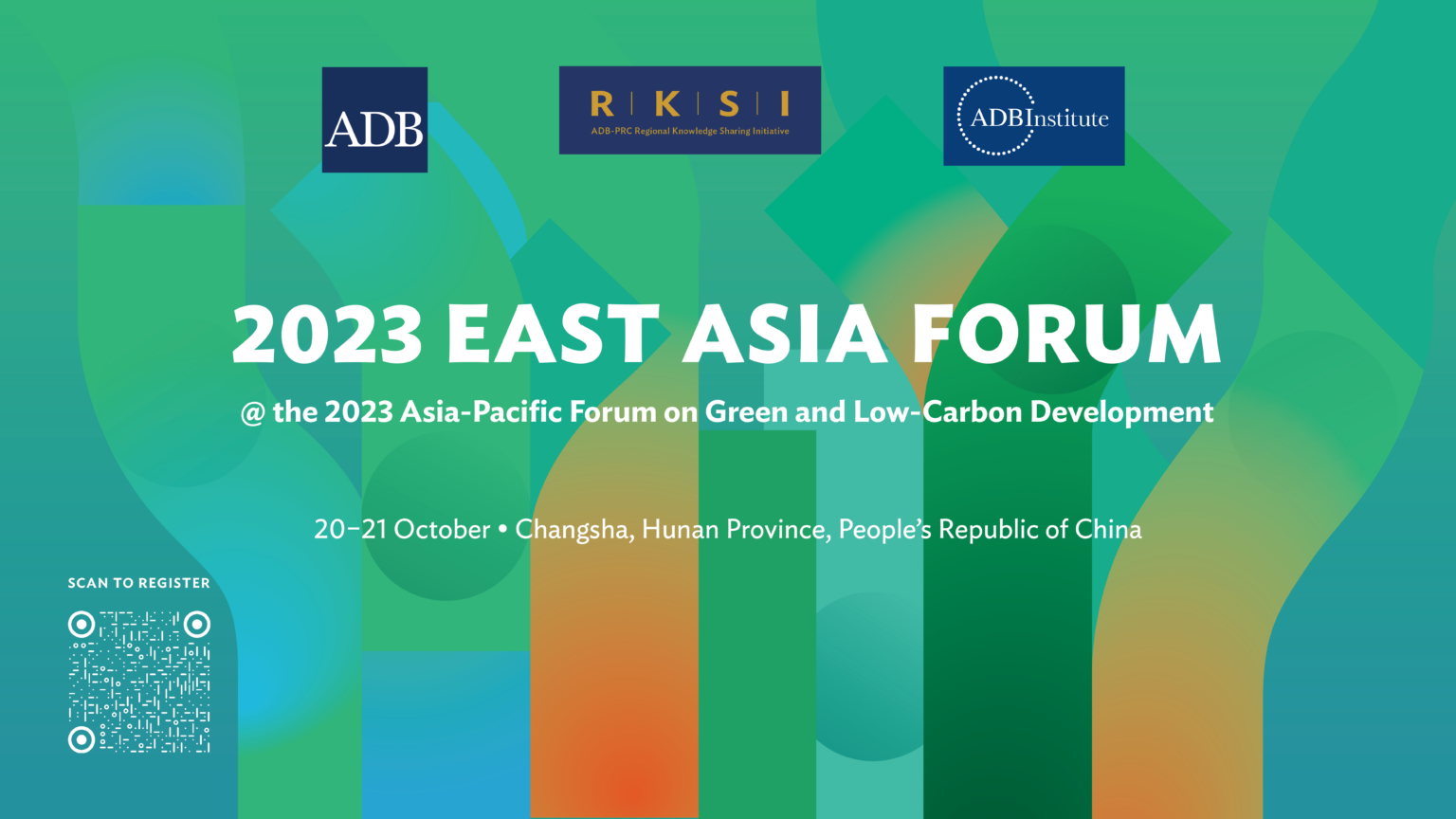 This year's East Asia Forum will be held alongside the Asia-Pacific Forum on Green and Low Carbon Development (APFGLCD). The event is jointly organized by ADB, ADB-PRC Regional Knowledge Sharing Initiative (RKSI), ADB Institute and the Ecology and Environment Department of Hunan. It is a flagship platform for sharing knowledge and insights on green development and low-carbon initiatives in the region.
This year's agenda includes plenary sessions and parallel sessions covering topics such as climate change, carbon pricing, greenhouse gas emissions reduction in agriculture, biodiversity conservation, financial innovation for climate action, and ADB projects promoting sustainability. The event aims to facilitate collaboration and knowledge exchange among participants from various sectors, including public, private, international organizations, academia, non-governmental organizations, and think tanks.
Program and Learning Materials:
| Date | Session / Activity | Presentation Material | Speaker(s) |
| --- | --- | --- | --- |
| 20 Oct 2023 | | Opening Ceremony | Jointly organized with APFGLCD |
| 20 Oct 2023 | | Plenary Session: The Road to COP 28: How's Asia-Pacific's Battle against Climate Change | Jointly organized with APFGLCD |
| 20 Oct 2023 | Parallel Session 2: Carbon Pricing Developments and Outlook for Green and Low Carbon Development in the PRC | Chair | Virender Kumar Duggal, Principal Climate Change Specialist, ADB |
| 20 Oct 2023 | Parallel Session 2: Carbon Pricing Developments and Outlook for Green and Low Carbon Development in the PRC | | Hui DING, Director, Ministry of Ecology and Environment's Department of Climate Change. |
| 20 Oct 2023 | Parallel Session 2: Carbon Pricing Developments and Outlook for Green and Low Carbon Development in the PRC | | Rob STOWE, Co-Director, Harvard Project on Climate Agreements. |
| 20 Oct 2023 | Parallel Session B: Biodiversity Conservation for Carbon Neutrality and Climate Resilience | Chair | Stefan RAU, Principal Urban Development Specialist, Water and Urban Development Sector Office, ADB. |
| 20 Oct 2023 | Parallel Session B: Biodiversity Conservation for Carbon Neutrality and Climate Resilience | | Jixi GAO, Director General, Satellite Application Center for Ecology and Environment, Ministry of Ecology and Environment, the PRC. |
| 20 Oct 2023 | Parallel Session B: Biodiversity Conservation for Carbon Neutrality and Climate Resilience | | Duncan A. LANG, Senior Environment Specialist, Climate Change and Sustainable Development Department, ADB, and Guangchun LEI, Advisor to Science Unite of the East Asia-Australasian Flyway Partnership. |
| 20 Oct 2023 | Parallel Session B: Biodiversity Conservation for Carbon Neutrality and Climate Resilience | | Yaling WU, Senior Advisor, Ant Group Research Institute. |
| 20 Oct 2023 | Parallel Session B: Biodiversity Conservation for Carbon Neutrality and Climate Resilience | Panelists | Facilitator: French Development Agency in China. (TBC) |
| 20 Oct 2023 | Parallel Session B: Biodiversity Conservation for Carbon Neutrality and Climate Resilience | | Daming BAO, DG-level Official, Department of Wetland Management, National Forest and Grassland Administration. |
| 20 Oct 2023 | Parallel Session B: Biodiversity Conservation for Carbon Neutrality and Climate Resilience | | Yan ZHANG, Head, IUCN China. |
| 20 Oct 2023 | Parallel Session B: Biodiversity Conservation for Carbon Neutrality and Climate Resilience | | Xiubo YU, Secretary General of China Ecosystem Research Network. |
| 20 Oct 2023 | | Wrap-Up: | Guojun QIU, Deputy Director General, Department of Rural Economy, National Development and Reform Committee. |