Events
DigitalxADB: Driving Digital Development Across Asia and the Pacific
11 October 2021

to

29 October 2021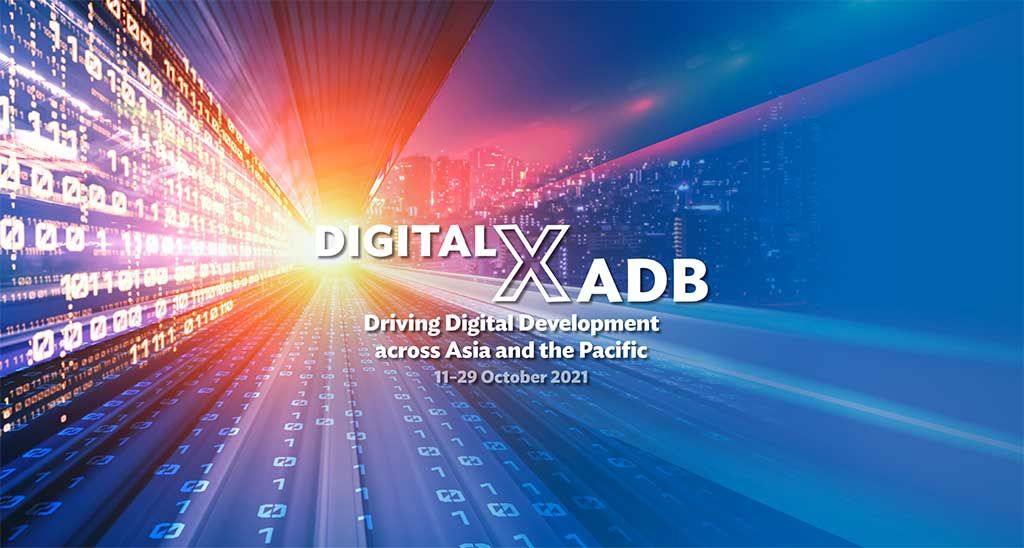 Digital technologies are today's most powerful drivers of change. DigitalxADB aims to raise awareness and build broad consensus within ADB to continue focusing on the digital opportunities that lie ahead in a world reshaped by COVID-19.
This event is designed to help ADB's people and partners learn more about the digital technologies that are being brought to the forefront of our operations, investments, and work.
DigitalxADB consists of four thematic tracks. They highlight different dimensions of the digital transformation currently undergoing both at the institutional and operational levels of ADB.
DigitalxInfrastructure
DigitalxWork
DigitalxGovernment
DigitalxEconomy
The event offers a rich portfolio of sessions, including:
High-level conversations to inform the future direction of the institutional and operational digital transformation of ADB
Discussions on ADB's digital strategy and transformation agenda
Showcasing of ADB's digital initiatives, highlighting the digital adaptations in design, delivery, and monitoring in operations
Experiential learning in new technology-based and data-driven solutions for ADB operations to reinforce the new digital and collaborative ways of working
Marketplace highlighting emerging technologies with strong potential to disrupt and contribute to ADB's operations.
Know more about this event here.
Program and Learning Materials:
Date
Session / Activity
Presentation Material
Speaker(s)

11 Oct 2021

11 October 2021
ACCELERATION OF DIGITAL FOR DEVELOPMENT

11 Oct 2021

11 October 2021
Opening Remarks
Masatsugu Asakawa

11 Oct 2021

11 October 2021
Keynote
Dave Wright, Chief Innovation Officer, ServiceNow

11 Oct 2021

11 October 2021
Keynote
David Rutter, Co-Founder and Chief Executive Officer, R3

11 Oct 2021

11 October 2021
TECHNOLOGY TRENDS FOR DEVELOPMENT

11 Oct 2021

11 October 2021
Panel Discussion
Moderated by Ahmed M. Saeed

11 Oct 2021

11 October 2021
Panelist
Tanya Hotchkiss, Executive Vice President, Cantilan Bank

11 Oct 2021

11 October 2021
Panelist
Ramayya Krishnan, Dean and Professor of Management Science and Information Systems, Carnegie Mellon University

11 Oct 2021

11 October 2021
Panelist
Kate Wilson CEO, Digital Impact Alliance, UN Foundation

11 Oct 2021

11 October 2021
Panelist
Nicolas Betbeder-Matibet, Regional President of the Asia Pacific and Japan Region, Software AG

11 Oct 2021

12 October 2021
DIGITAL INFRASTRUCTURE AS THE KEY DRIVER FOR ASIA'S RECOVERY AND RESILIENCE

11 Oct 2021

12 October 2021
Keynote
Bambang Susantono

11 Oct 2021

12 October 2021
ACHIEVING THE UNIVERSAL DIGITAL ACCESS

11 Oct 2021

12 October 2021
Panel Discussion
Moderated by Cleo Kawawaki

11 Oct 2021

Presentations
Impact of Policymaking and State of Mobile Broadband Connectivity in South Asia


This presentation gives an overview on the state of mobile broadband connectivity in selected South Asian countries.

Chee Kheong Foong

11 Oct 2021

Presentations
ICDF's GIS/EO technologies and AI applications: Marine MarineDebris Detection, Agriculture Monitoring, and Forest Pest Management


This presentation gives an overview on utilizing GIS/EO technologies in agriculture and environment protection.

Yan-You Chen, Chi-Farn Chen

11 Oct 2021

Presentations
Building National ID Principles on Identification for Development - Thailand's Perspective


This presentation gives an overview on the implementation of National ID System in Thailand.

Tipsuda Thavaramara

11 Oct 2021

Presentations
High Precision Package (HPP)


Presentation onsafer, faster way to capture, measure, and analyze yoursite survey data.

Alex Ramirez