Events
DigitalxADB: Driving Digital Development Across Asia and the Pacific
11 October 2021

to

29 October 2021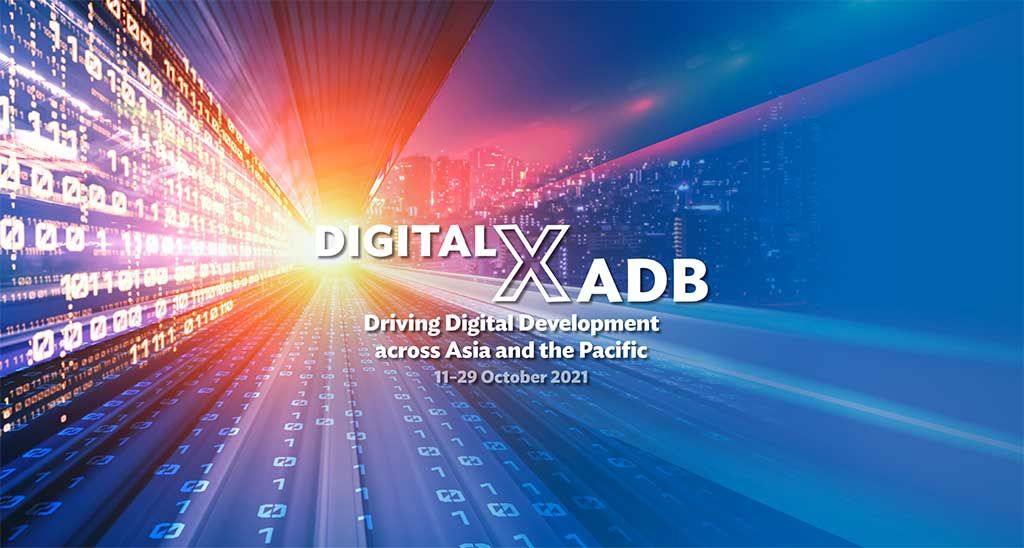 Digital technologies are today's most powerful drivers of change. DigitalxADB aims to raise awareness and build broad consensus within ADB to continue focusing on the digital opportunities that lie ahead in a world reshaped by COVID-19.
This event is designed to help ADB's people and partners learn more about the digital technologies that are being brought to the forefront of our operations, investments, and work.
DigitalxADB consists of four thematic tracks. They highlight different dimensions of the digital transformation currently undergoing both at the institutional and operational levels of ADB.
DigitalxInfrastructure
DigitalxWork
DigitalxGovernment
DigitalxEconomy
The event offers a rich portfolio of sessions, including:
High-level conversations to inform the future direction of the institutional and operational digital transformation of ADB
Discussions on ADB's digital strategy and transformation agenda
Showcasing of ADB's digital initiatives, highlighting the digital adaptations in design, delivery, and monitoring in operations
Experiential learning in new technology-based and data-driven solutions for ADB operations to reinforce the new digital and collaborative ways of working
Marketplace highlighting emerging technologies with strong potential to disrupt and contribute to ADB's operations.
Know more about this event here.
Program and Learning Materials:
Date
Session / Activity
Presentation Material
Speaker(s)

11 Oct 2021

11-14 October 2021
Week 1 of DigitalxADB


Digital infrastructure underpins our modern economy, workplace, government, and society. As the rest of the world becomes more digitally dependent, expanding...

11 Oct 2021

18-21 October 2021
Week 2 of DigitalxADB


Accelerating the continuous digital transformation of ADB is key for driving change in how we work. Innovation, risk taking, and new ways of working are...

11 Oct 2021

25-29 October 2021
Week 3 of DigitalxADB


Agile and innovative start-ups have accelerated the digitalization of society, economy, and institutions, contributing to sustainable development outcomes...