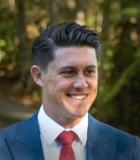 Director of Business Development
Profile / Bio:
Sebastien Boulay is a physical oceanographer and Director of Business Development at Sofar Ocean. With a background as an offshore hydrographic surveyor and project manager, Sebastien was previously responsible for the worldwide marine forecast services at the New Zealand MetService. 
Since he joined Sofar in 2019, Sebastien has been helping researchers, engineers, and citizen scientists to collect the marine data that matters to their operations and projects. Within Sofar, he serves as a customer advocate and subject matter expert to support the development of the next generation of ocean monitoring devices and services.
He is also part of various workgroups sitting under the World Meteorological Organisation, the Global Ocean Observing System, and the IOC UNESCO looking at improving the worldwide ocean measurements and dialogue between the industry and marine research organizations. 
Sebastien is also a co-lead on a variety of research projects with external agencies, focused on marine data accessibility to underserved communities.