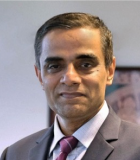 Profile / Bio:
Ramesh Subramaniam has been with the Asian Development Bank for over 24 years. He has worked in different functions and areas in over 25 countries across the various sub-regions of Asia and the Pacific. As Director General of the Southeast Asia Department (SERD) from July 2017, he is in charge of ADB's relationship with the 10 countries in the Association of Southeast Asian Nations (ASEAN) and Timor Leste, as well as all of its sovereign engagement. He has been a member of various Global Future Councils of the World Economic Forum (WEF) since 2012, and currently serves as the co-chair of the ASEAN Hub of WEF's Sustainable Development Investment Partnership.
With a strong focus on policy and institutional reforms across the region, Mr. Subramaniam's strong interest has been in helping the region's developing member countries reduce poverty, achieve equitable growth and attract greater private sector investments. He has led several important initiatives such as the establishment of the ASEAN Infrastructure Fund, various critical post-crisis counter-cyclical reform and restructuring programs in many countries, as well as post-disaster reconstruction projects across the Asia and the Pacific. The ASEAN Policy Network and ASEAN Innovation Hub were established under his leadership in 2017, and he oversaw the establishment of the ASEAN Catalytic Green Finance Facility. Among other aspects of his work, Mr. Subramaniam is most humbled by his role in formulating ADB's support after several devastating natural disasters, including the December 2004 Indian Ocean Tsunami; 2006 Yogyakarta earthquake; 2006 Pakistan earthquake; 2009 Pakistan floods; 2013 Typhoon Haiyan in the Philippines; 2018 Palu earthquake and tsunami in Indonesia; and most recently, the 2020 COVID-19 pandemic.
Mr. Subramaniam has an MA in Economics from University of Madras, India; and a Ph.D. in Economics from McMaster University, Canada, where he was also a Lecturer (1992-93). He was a Research Fellow on Industry at the University of St. Andrews in the United Kingdom from December 1993 to January 1994, and a Rockefeller Fellow at Yale University Economic Growth Center from February 1994 to March 1997.