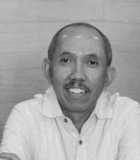 Former Director, Transport, Energy, and Natural Resources Division, Pacific Department
Profile / Bio:
Mr. Olly Norojono joined the Asian Development Bank (ADB) in 2002. He has more than 30 years of professional experience. During his work with ADB, he prepared and managed projects in Afghanistan, Indonesia, Kazakhstan, Pakistan, and Uzbekistan. He was appointed as the country director for Azerbaijan in 2010 where he was in charge of developing and managing ADB's portfolio in the country. He assumed office as the Director for Transport, Energy, and Natural Resources at Pacific Department in October 2015. Prior to working with ADB, he was teaching and conducting research in Indonesia. Mr. Norojono holds a PhD. in economics, a master of science and transport planning and engineering, and a bachelor of science in civil engineering.
He left his position in ADB in January 2021.