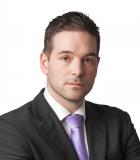 Deputy Registrar and Centre Director
Singapore International Arbitration Centre
Profile / Bio:
Mr. Kevin Nash is the deputy registrar and centre director of the Singapore International Arbitration Centre (SIAC). In such capacity, he assists with the administration of all cases filed with SIAC and the supervision of SIAC's multinational Secretariat.
Since joining SIAC in 2012, Mr. Nash has assisted with and overseen the administration of more than 1,000 international cases under all versions of the SIAC Rules and the UNCITRAL Arbitration Rules, among others, and has significant experience in SIAC cases conducted under the Expedited Procedure and applications for the appointment of an Emergency Arbitrator. He also worked closely on the revisions to the SIAC Rules 2013, the SIAC Rules 2016, and the SIAC Investment Arbitration Rules 2017.
Mr. Nash holds a B.A. from Mount Allison University and a J.D. from Osgoode Hall Law School. Kevin worked at one of Canada's prominent 'Seven Sister' law firms and then went on to study an LL.M. in International Commercial Arbitration at Stockholm University. He is qualified as a Barrister and Solicitor with the Law Society of Upper Canada.