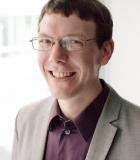 Founder and Principal Consultant
, Informed Sustainability Consulting
Profile / Bio:
With a decade of life cycle assessment (LCA) experience and a lifelong commitment to improving humanity's relationship with planet Earth, Isaac founded Informed Sustainability Consulting in 2019 to help organizations act on their environmental commitments. Isaac brings deep knowledge of sustainability metrics, broad experience in data analysis and communications, and a foundation of ethics and passion to every project.
Isaac is an expert in applying LCA to novel and changing industries. Recent projects in food and energy have allowed him to specialize in agricultural products, including unconventional industries like cellular agriculture (especially "cell-based meat"), plant-based meat, and second-generation biofuels. His work has been published in scientific journals and covered by major media outlets.
Based in Seattle, Isaac enjoys cycling, storytelling games, and exploring the Pacific Northwest with his family and friends.