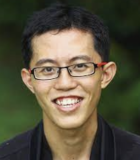 Advocacy and Policy Manager (Asia)
Profile / Bio:
Ding Li is passionate about biodiversity (especially migratory species, wetlands and rainforests) and its protection, and how conservation practice can be reconciled with human development. He works with culturally diverse teams across Asia to create, drive, and scale-up projects that protect ecosystems and species, including some of the world's most threatened wildlife. He has 15 years of experience in biodiversity science and environmental policy, and have worked with many Asia-based and international organisations, including the Asian Development Bank, IUCN, the Arctic Council, the Bonn Convention and the Convention on Biological Diversity, and National Governments. Ding Li strongly believes in the power of international cooperation in tackling complex environmental problems, against a foundation of locally-driven environmental initiatives.  
He has written widely on biodiversity and species conservation in the Asia-Pacific, including six books and more than 50 peer-reviewed papers. He is also a self-taught artist who has illustrated many books and articles.