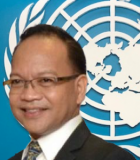 Country Programme Manager
Profile / Bio:
Mr. Christopher Rollo assumed his post as the Country Programme Manager of UN-Habitat in the Philippines in January 2012, after serving as UN-Habitat Knowledge Manager from 2007. Before joining UN-Habitat, he was the Chairman of the National Committee on Visual Arts of the National Commission for Culture and the Arts (2001-2007) and Deputy Director of the Metropolitan Museum of Manila (2004-2006).
Mr. Rollo holds a Master's degree in Business Management from the Asian Institute of Management, Philippines, and a Bachelor's degree in Economics from the Ateneo de Manila University, Philippines. He has also had three years of law studies at the University of Santo Tomas Faculty of Civil Law.