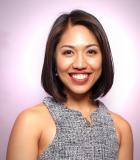 Profile / Bio:
Anna Oposa is the Executive Director and "Chief Mermaid" of Save Philippine Seas (SPS), a movement to conserve the Philippines' coastal and marine resources through education and community-based projects. She focuses on policy development, waste management, shark conservation, and youth empowerment.
Outside SPS, Anna has served as a consultant for the Climate Change Commission, Asian Development Bank (ADB), and Oceana, among others. She has co-written a workbook entitled An Introduction to Climate Change for Filipino Youth. For ADB, she has worked on projects related to youth policies, illegal wildlife trade, and environmental education. She is currently a consultant for ADB to support the development of its ocean health agenda.
Anna's work has been recognized in the Philippines and abroad. In 2011, Yahoo! Southeast Asia named her as one of the seven inspiring modern-day Filipino heroes. In 2012, she received the Future for Nature Award. At 25 years old, she was identified as one of Devex's 40 International Development Leaders Under 40.
Anna obtained her MSc in Conservation Science from Imperial College London through the Chevening scholarship. In 2017, she was one of the three Global Fellows for Marine Conservation at Duke University.