Event:
ASEAN Australia Smart Cities Webinar Series
Smart Cities - Inclusive Cities Capacity Building Program: Stakeholder and Issues Mapping Report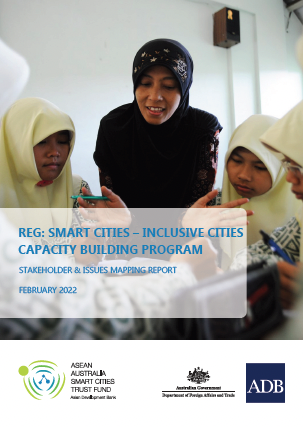 The AASCTF Inclusive Cities Dialogues project provides a space for a wide range of urban stakeholders in and beyond government from cities across seven ASEAN countries to (1) increase awareness towards addressing exclusion, disenfranchisement, and discrimination; (2) facilitate engagement between stakeholders to identify strategies to address exclusion and marginalization; and (3) support networking and galvanize action towards politically feasible reforms for inclusive cities in ASEAN.
This Stakeholder and Issues Mapping Report provides an introduction to the project. It delves into the key inclusion issues across AASCTF, investigates efforts to promote inclusion in key urban governance issues, and identifies stakeholders in the inclusive reform space in these cities. Ultimately this report provides the stakeholder and issues mapping process undertaken by the project team with the purpose of facilitating the Inclusive Cities Dialogues content development, and the design of core activities with reference to city contexts and stakeholders.    
Geographical Focus:
Subregional- Southeast Asia