Events
Youth in a Time of Crisis: Livelihood Diaries from Nepal and Indonesia During COVID-19
08 December 2021

to

09 December 2021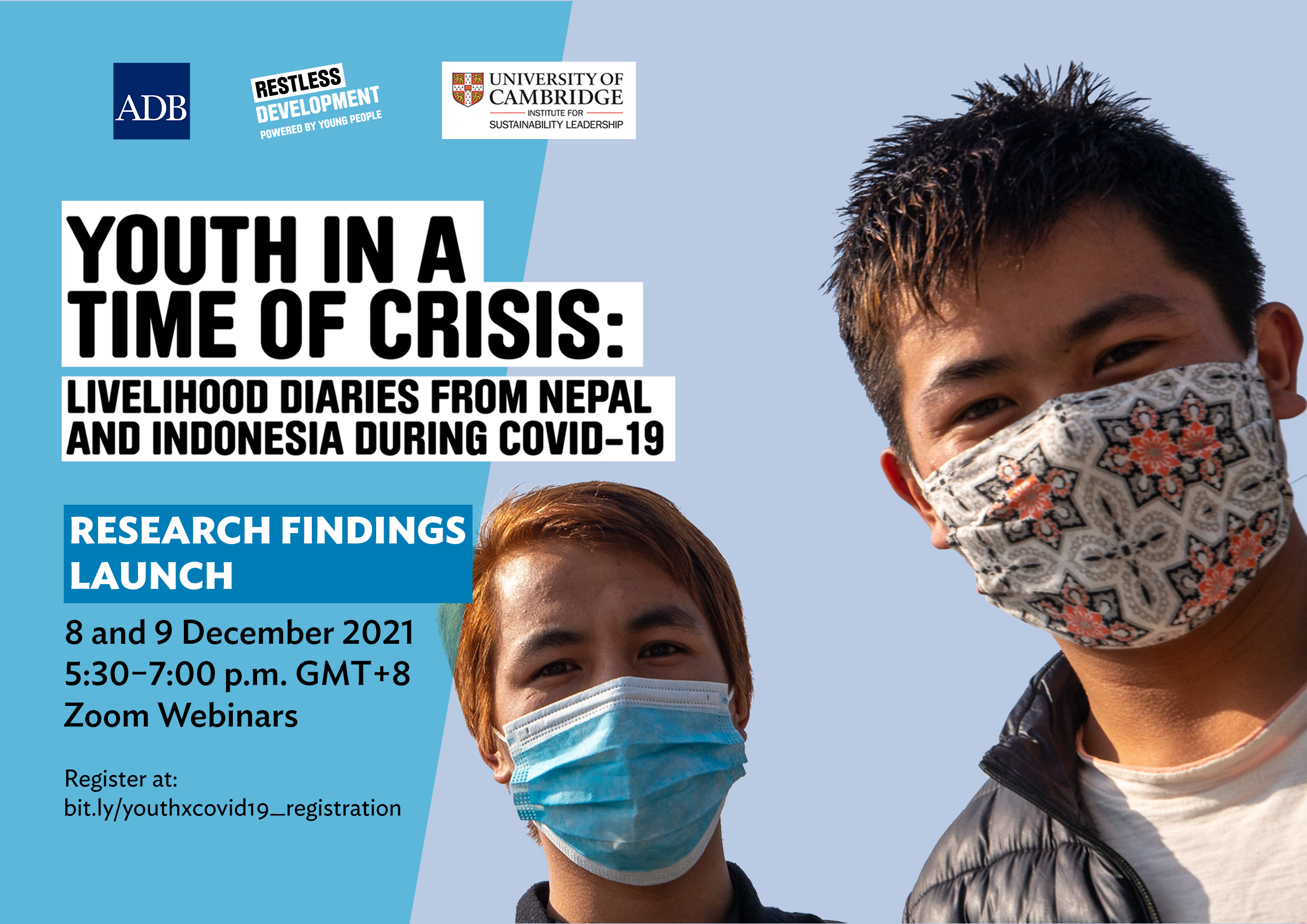 Youth in a Time of Crisis: Livelihood Diaries from Nepal and Indonesia During COVID-19
RESEARCH FINDINGS LAUNCH
8 and 9 December 2021 | 5:30–7:00 p.m. GMT+8
The Asian Development Bank, Cambridge University Institute for Sustainability Leadership and Restless Development teamed up to undertake innovative research on the impacts of COVID-19 on young people's livelihoods. The pilot study explored how some of the most vulnerable groups of young people experienced and responded to the COVID-19 pandemic in Nepal and Indonesia. Through diaries collected weekly over four months, this youth-led project generated new insights and recommendations that can inform future research and practice.
The event will be held for two days (two 1.5-hour online sessions on the 8th and 9th December 2021, each day commencing at 17:30 (GMT +08:00) to share the methodological approach, explore the findings, and hear directly from the research team themselves. After the presentations, facilitated discussions on Day 1 will focus on the research methodology and how this and other innovative participatory qualitative research can contribute to COVID-19 recovery planning, and what the benefits of funding this type of research are. While Day 2, focuses on the findings in Nepal and Indonesia, and consider how this research can guide the response.
Please join us and participate in these rich discussions.
Program and Learning Materials:
| Date | Session / Activity | Presentation Material | Speaker(s) |
| --- | --- | --- | --- |
| 08 Dec 2021 | Methods Day | Materials will be uploaded once available after the event. | |
| 08 Dec 2021 | Opening | Opening Speeches | |
| 08 Dec 2021 | | Summary of Research Methods and the Youth-led methodology | |
| 08 Dec 2021 | | Academic Discussion and Reflection | |
| 08 Dec 2021 | | Question and Answer Session | |
| 08 Dec 2021 | | Closing Remarks | |
| Date | Session / Activity | Presentation Material | Speaker(s) |
| --- | --- | --- | --- |
| 09 Dec 2021 | Findings Day | Materials will be uploaded once available after the event. | |
| 09 Dec 2021 | Opening | Opening Speeches | |
| 09 Dec 2021 | | Presentation of Research Findings | |
| 09 Dec 2021 | | Policy Discussion and Reflection | |
| 09 Dec 2021 | | Question and Answer Session | |
| 09 Dec 2021 | | Closing Remarks | |