Events
World Water Day 2022: Digitalizing Water: The Visible and Invisible
On World Water Day, 22 March 2022, ADB hosted a webinar on "Digitalizing Water: The Visible and Invisible." In line with the global day's groundwater theme, the event focused on digital tools and how technology can help manage both groundwater and surface water.  
Moderated by ADB Water Chief Neeta Pokhrel, the session opened with Deltares Foundation's Managing Director, Annemieke Nijhof, who delivered the keynote address on the global thinking, tools, and technology for valuing water. ADBDirector General for Sustainable Development and Climate Change Division, Bruno Carrasco, emphasized how the double crises of climate change and the coronavirus disease (COVID-19) pandemic that we face today make digitalization imperative in water operations.   
In her case study speech on "the invisible," ADB Water Resources Specialist, Silvia Cardascia, shared about how an ADB project is helping Beijing recharge its aquifer. ADB Senior Resources Specialist, Jelle Beekma, also presented examples of "visible" technology used on the ground for better waste management. To close, Water Sector Committee Chair and Environment and Natural Resources Director, Tom Panella, emphasized what digitalizing water in ADB is truly about: helping the most vulnerable among us.  
Resource Speakers: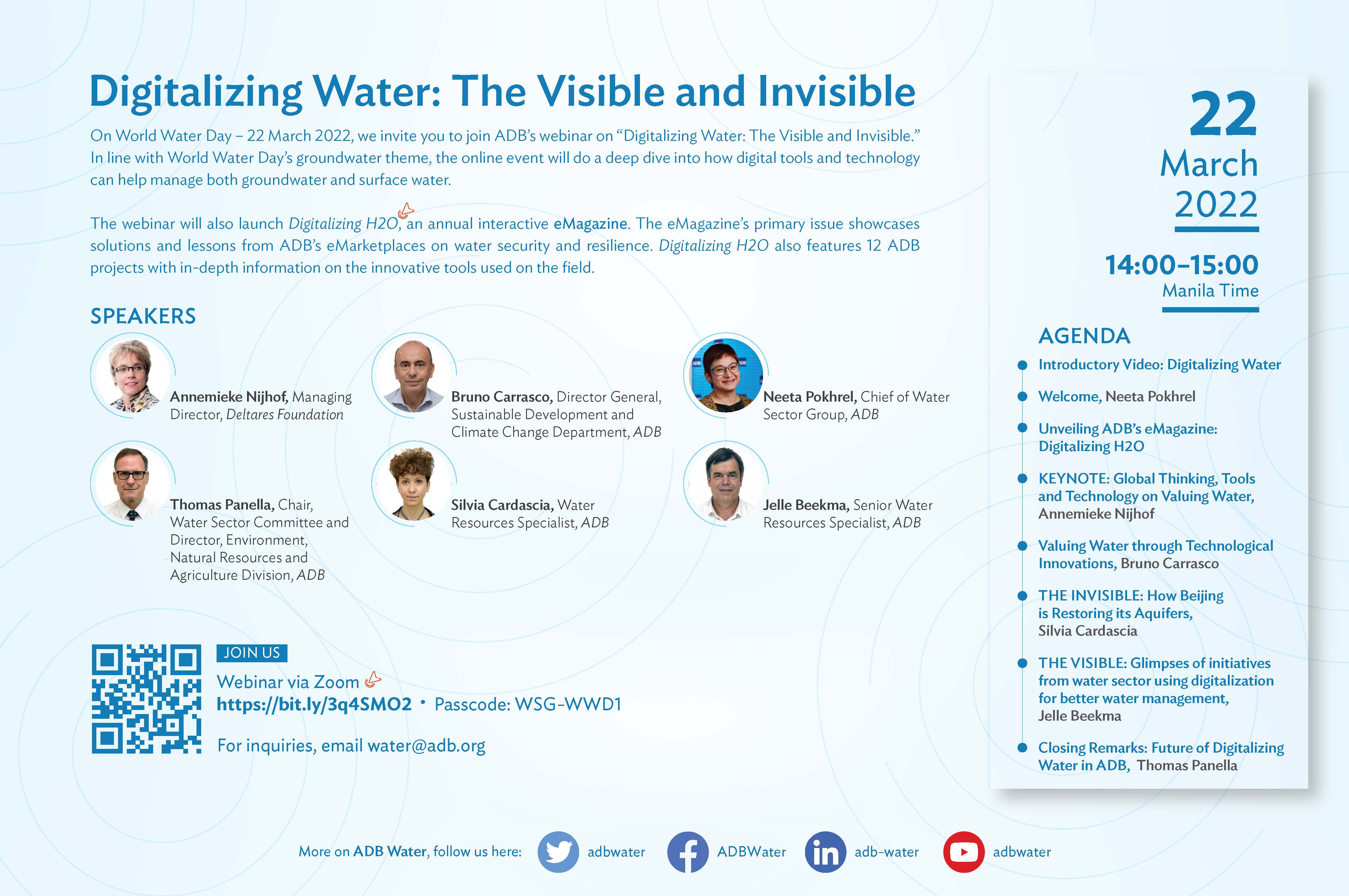 Program and Learning Materials:
| Date | Session / Activity | Presentation Material | Speaker(s) |
| --- | --- | --- | --- |
| 22 Mar 2022 | Opening | Welcome Address | Neeta Pokhrel |
| 22 Mar 2022 | | Unveiling ADB's eMagazine: Digitalizing H2O | |
| 22 Mar 2022 | Keynote Address | Global Thinking, Tools and Technology on Valuing Water | Annemieke Nijhof |
| 22 Mar 2022 | | Valuing Water through Technological Innovations | Bruno Carrasco |
| 22 Mar 2022 | THE INVISIBLE: | How Beijing is Restoring its Aquifers | Silvia Cardascia |
| 22 Mar 2022 | THE VISIBLE: | Glimpses of initiatives from water sector using digitalization for better water management | Jelle Beekma |
| 22 Mar 2022 | | Closing Remarks: Future of Digitalizing Water in ADB | Thomas Panella |