Events
Workshop for Women Entrepreneurs: How to Best Engage in International Trade
CLICK THIS TO ANSWER THE EVALUATION FORM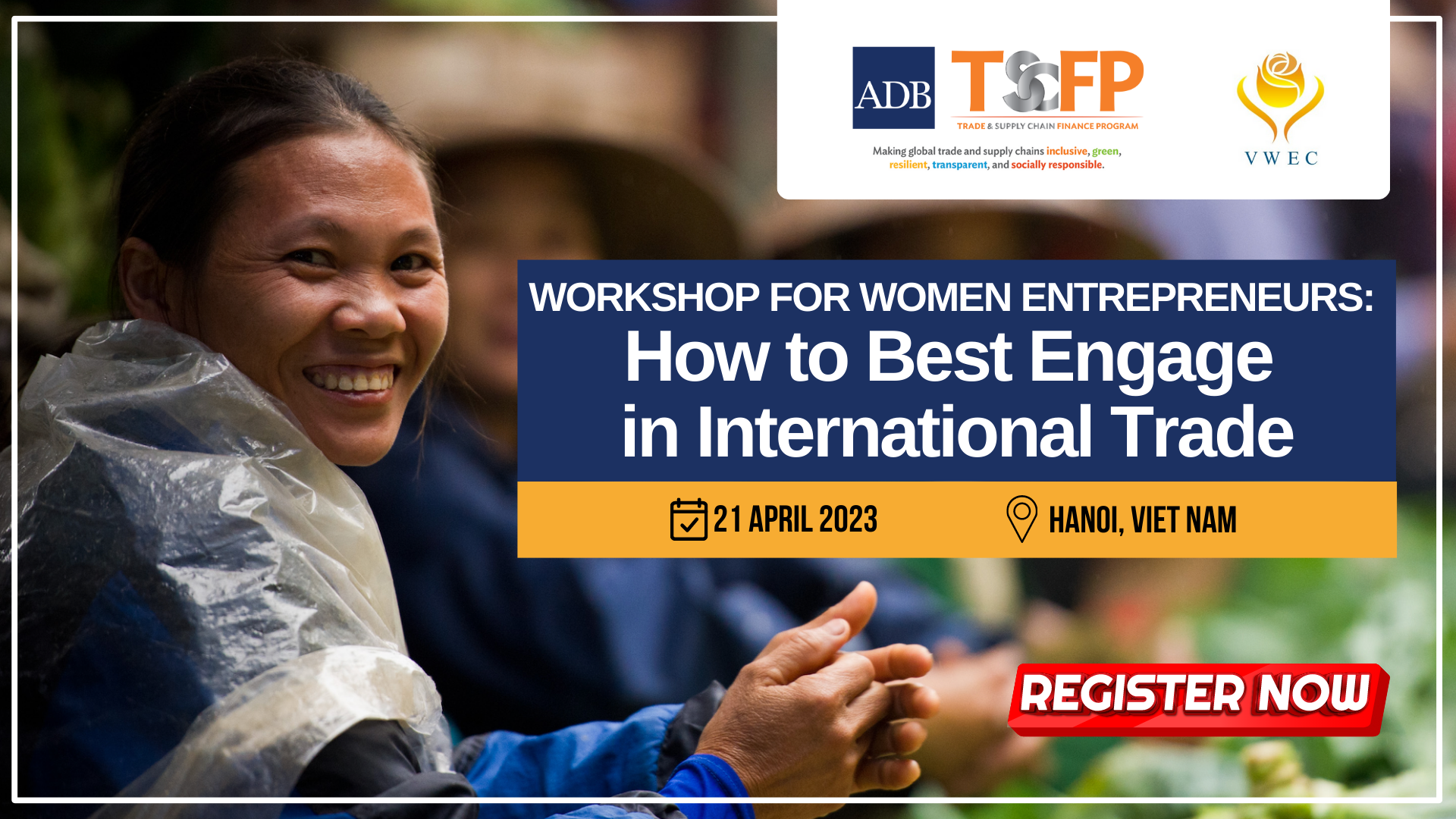 ADB Trade and Supply Chain Finance Program would like to invite you to a free half-day training event on International Trade and Finance. The training event aims to help women entrepreneurs to increase their business potential and provide inputs on how to engage in international trade. It will touch upon trends in global trade & finance, the International Contract of Sale & ICC Incoterms 2020, supporting mechanisms and export challenges and opportunities for SMEs. 
ADB specialists in collaboration with Vietnam Women Entrepreneurs Council (VWEC)  will provide case studies and examples of best practices for exporting to foreign markets and securing payment for goods shipped, (draft agenda attached).
ADB TSCFP's "Workshop for Women Entrepreneurs: How to Best Engage in International Trade" will be held in Hanoi, Vietnam on 21 April 2023 at 8:00 AM.
Program and Learning Materials:
Date
Session / Activity
Presentation Material
Speaker(s)

21 Apr 2023

Welcome Remarks
Chu Hong Minh, ADB

21 Apr 2023

Challenges for SMEs in International Trade
Nguyen Thi Thu Trang, Vietnam Chamber of Commerce and Industry (VCCI)

21 Apr 2023

International Trade and Finance
Vincent O'Brien, ICC

21 Apr 2023

Trade Finance Case Studies
Vincent O'Brien, ICC

21 Apr 2023

Sharing of Experiences and Lessons Learned of Women Entrepreneurs on International Trade
Nguyen Thi Vinh, Tien Thanh Handicraft Wares Production Import Export Co., Ltd
Bui Tu Ngoc, Hanoli Joint Stock Company
Tran Huyen Trang, Entaid International Corporation JSC

21 Apr 2023

Closing Remarks
Mai Thi Dieu Huyen, Vietnam Women Entrepreneur Council (VWEC)