Events
Workshop on Traditional Trade
22 March 2023

to

23 March 2023
POST-EVENT EVALUATION FORM (Please answer on Day 2 to receive a certificate): CLICK THIS LINK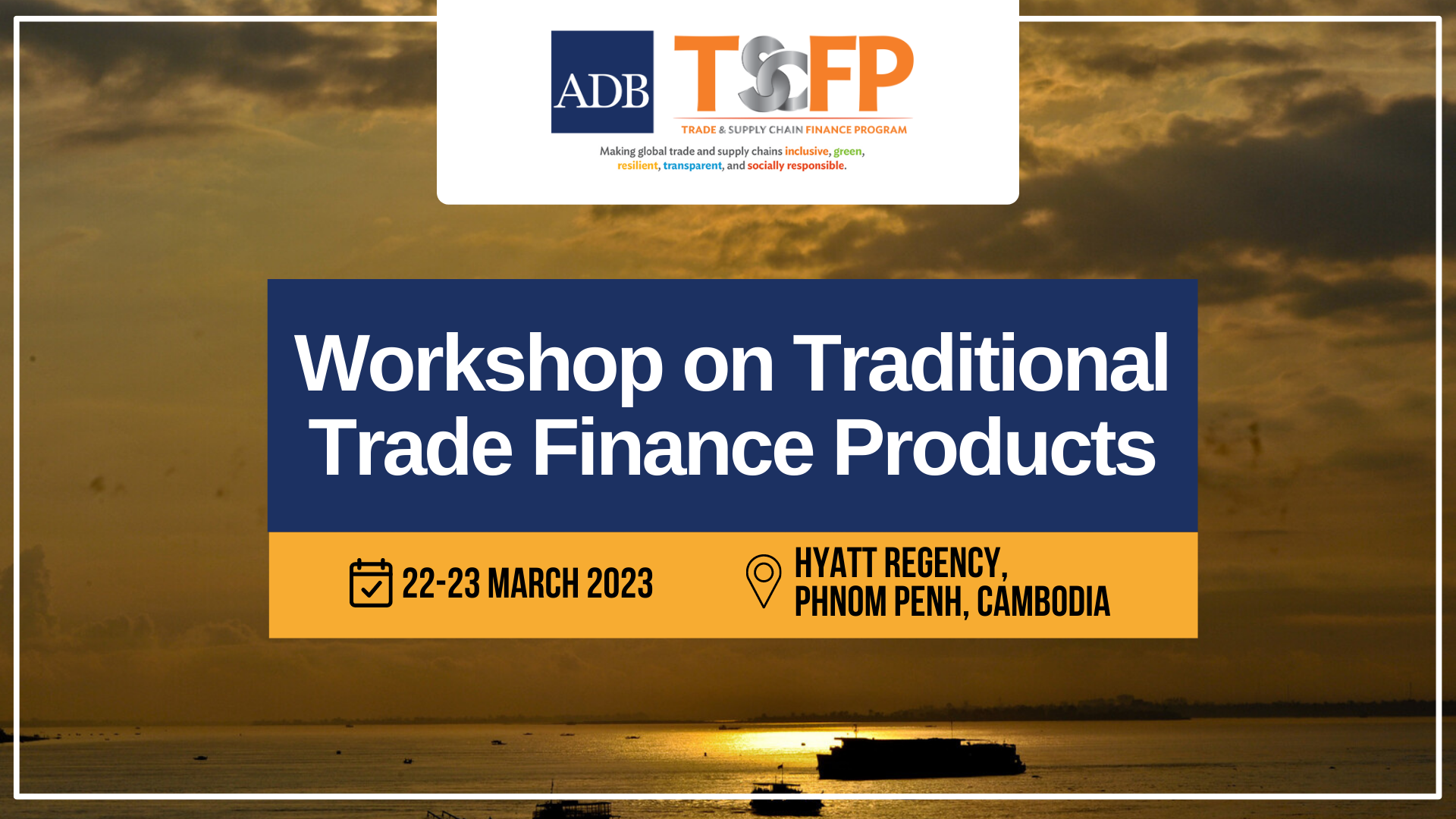 ADB Trade and Supply Chain Finance Program will organize a two-day FREE training event focused on how to establish a successful trade finance business in Cambodia.
ADB experts will provide a detailed overview of trade finance business from products fundamentals, to risk management practices and business opportunities for banks operating in Cambodia.
Slots are limited to a maximum of 2 participants per bank.
Program and Learning Materials:
Date
Session / Activity
Presentation Material
Speaker(s)

22 Mar 2023

Event Introduction
Jyotsana Varma, ADB Cambodia Country Director

22 Mar 2023

Session 1: Overview of Trade and Supply Chain Finance program
Topics:
• Presentation of overall activity of TSCFP (products and TAs)
• The Importance of Trade in achieving SDGs
Roberto Leva, ADB TSCFP

22 Mar 2023

Session 2: Overview of Cambodia economy and the potential of Trade
Topics:
• Country statistics, economy, trading partners
Poullang Doung, Senior Economics Officer, ADB Cambodia Resident Mission

22 Mar 2023

Session 3: Trade Finance in Cambodia
Topics:
• Global Trade & Finance Trends
• SWIFT Regional Trade Messaging Insights
• Cambodia Trade Challenges and Opportunities

Vincent O'Brien, ICC | Panellists: • Zhiger Atchabarov, Chief Operating Officer ABA Bank • Parth Borkotoky, CEO & Founder, Azaylla

22 Mar 2023

Session 4: Financing International Trade – the Fundamentals
Topics:
• International Contracts & Incoterms 2020
• Cross Border Payment and Finance Options
• Commercial, Bank and Country Risks
• Documentary Credit Foundation Workflow

Vincent O'Brien, ICC

22 Mar 2023

Session 5: Documentary Credits Case Study in Action
Topic:
• Practical case on import transaction
Focus:
• Product details, risk components
Roger Packham, ADB TSCFP

22 Mar 2023

Session 6: Trade Loans – basics and case study
Topic:
• Presentation on use of short-term trade loans to support working capital needs
Roger Packham, ADB TSCFP

22 Mar 2023

Session 6: Bank Guarantees and Standby Letters of Credit
Topics:
• Trends in the use of Guarantees and Standbys
• Workflow and International Rules
• Standby Letters of Credit and Open Account Trade
• How the ADB Standby LC supports Trade Transactions
Vincent O'Brien, ICC

22 Mar 2023

Wrap up
Roberto Leva, ADB TSCFP
Date
Session / Activity
Presentation Material
Speaker(s)

23 Mar 2023

Registration and Welcome Coffee

23 Mar 2023

Session 1: How to establish a successful Trade Finance Business
Topics:
• Key Components of a Successful Trade Business
• Benefits for banks: Why Trade Finance is low risk
• The keys to success (Six "S")
• Trade Cycle Analysis
• How to set up a trade facility (Case Studies/Exercises)

Roger Packham, ADB TSCFP

23 Mar 2023

Session 2: Panel session
Topic: Presentation from international banks on current markets and practices
Moderator: Roberto Leva, ADB TSCFP | Panellist: • Do Thanh Hang, Vice President Trade Operations Center, BIDV • Nakarin Sakorn, First Vice President, Kasikorn Bank • Sarah Nguyen, Director, Head of Correspondent Banking, Standard Chartered Bank Vietnam

23 Mar 2023

Session 3: Trade Sales and Business Development
• Why are trade finance products better than overdrafts?
• Types of Trade Facilities
• Benefits for Customers
Roger Packham, ADB TSCFP | Vincent O'Brian, ICC

23 Mar 2023

• Risk factors to be evaluated for a trade finance transaction
• Capital requirements
• Trade Finance Success Stories in supporting SMEs

23 Mar 2023

Session 4: Supply Chain Finance
Topics:
• Introduction to Supply Chain Financing
• Update on ABC and ADB efforts on regulations
• Presentation of live deal in the region
Vincent O'Brien, ICC | Aparna Soni Bhalla, ADB TSCFP | Azeem Jamshed Azmi, CIMB Bank

23 Mar 2023

Workshop / Case Studies
Roger Packham, ADB TSCFP | Vincent O'Brien, ICC