Events
Workshop on Increasing Trade Potential for Women Entrepreneurs
Please note that presentations will be uploaded here AFTER the event.
To receive a digital certificate of participation, ANSWER THIS EVALUATION FORM: https://forms.office.com/r/Usski5Cw5b
---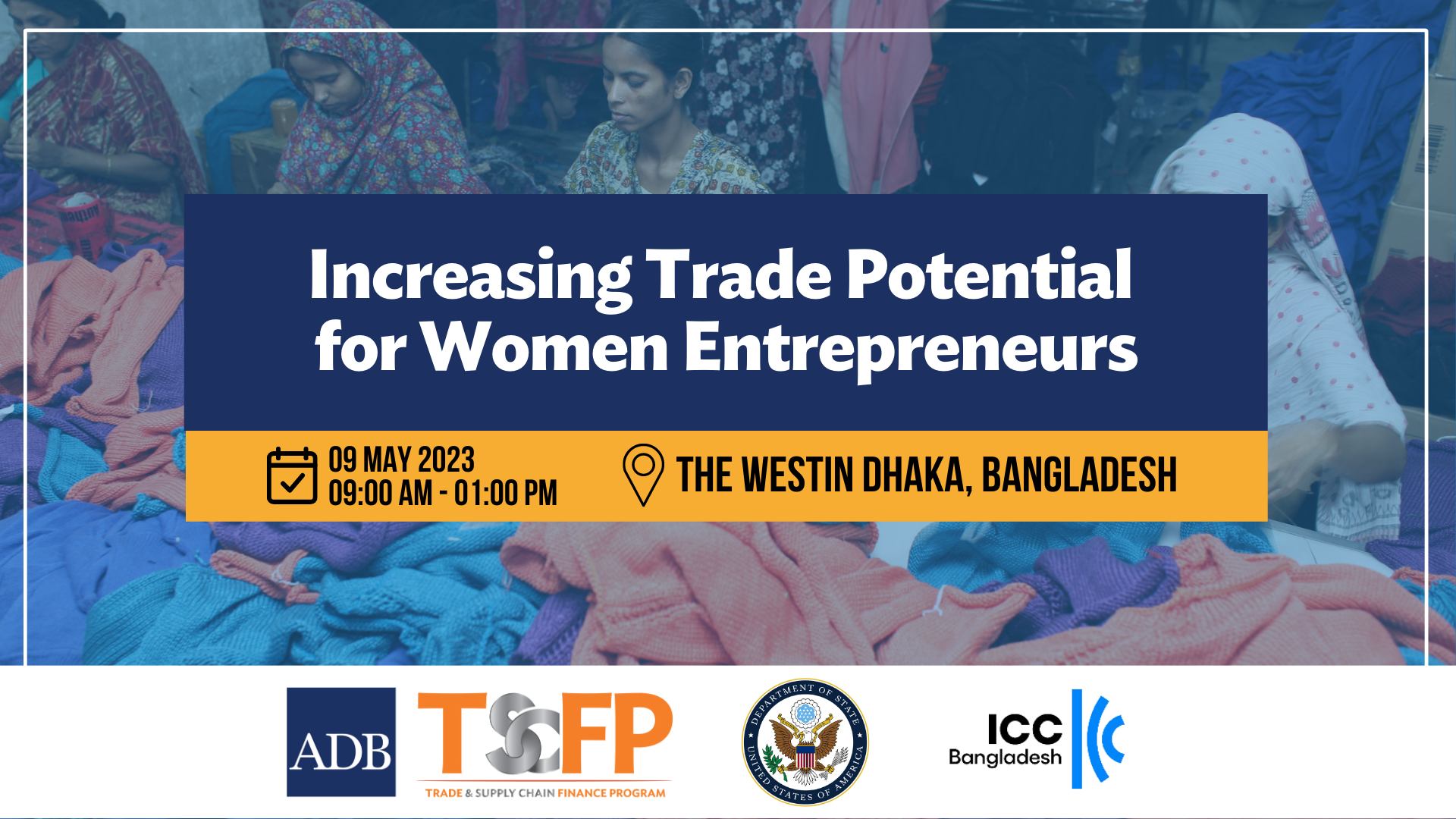 As part of its Gender initiative for effective gender mainstreaming to address gender inequities in Asia Pacific and in trade in particular, TSCFP is partnering with the International Chamber of Commerce Bangladesh to promote a training and networking event for women in business. This event will focus on the practical application of ICC's trade facilitation rules for trade finance which underpin international trade and finance. 
The Workshop on Increasing Trade Potential for Women Entrepreneurs in Bangladesh is happening on 9 May 2023 at The Westin Dhaka. The ADB has engaged subject matter experts to speak on relevant topics, share best practices and tips, and facilitate interactive sessions during the workshop. 
Program and Learning Materials:
Date
Session / Activity
Presentation Material
Speaker(s)

09 May 2023

Master Deck
Increasing Trade Potential for Women Entrepreneurs


This presentation discussed the whole seminar on Increasing Trade Potential for Women Entrepreneurs.

09 May 2023

Opening Remarks 
Ms Mahia Juned, DMD The City Bank 

09 May 2023

Challenges for SMEs in International
Ms Afsana Asif, Managing Partner, Asix (Textile and Fashion Manufacturer and Retailer)

09 May 2023

International Trade and Finance 
Vincent O'Brien, ICC  UAE

09 May 2023

Case Study: Issuing Import Letter of Credit | Case Study: Examining Documents Export Letter of Credit
Vincent O'Brien, ICC  UAE

09 May 2023

Local Issues for Consideration
Mutual Trust Bank & ICC Bangladesh

09 May 2023

Closing Remarks 
Mrs. Parveen Mahmud, Chairperson, Trustee Board, RDRS Bangladesh

Mr. A K Azad, ICC Bangladesh Vice President