Events
Public Integrity Network - Capacity Development Program
05 February 2021

to

28 April 2021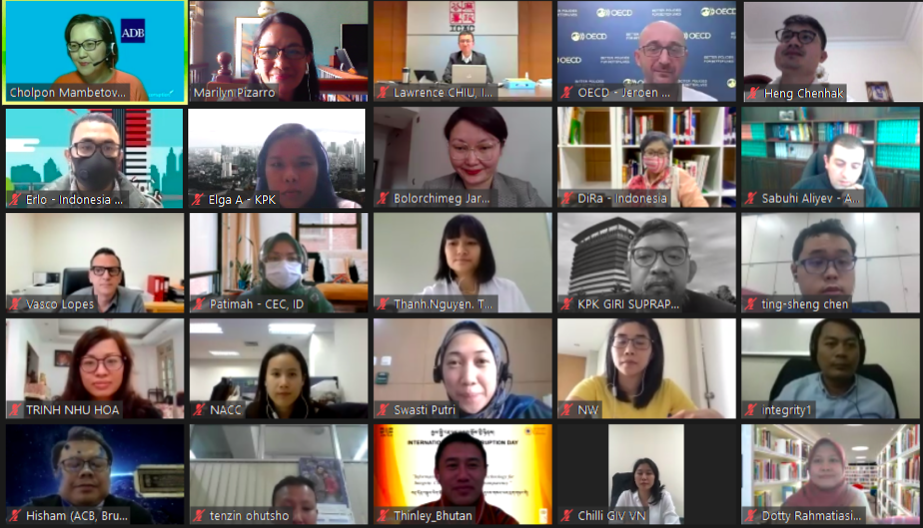 In response to its members' request to learn from countries' successful experience and best practices in corruption prevention and education, the  Anti-Corruption Initiative for Asia-Pacific (ACI)  partners with Hong Kong's Independent Commission Against Corruption (ICAC) to conduct a public integrity network - capacity development program for its members.
This knowledge series is designed around Hong Kong's example in fighting corruption through anticorruption community education and awareness raising, and systemic corruption prevention.
The first session held on 5 February 2021 "Building a Clean Government in Hong Kong, China – from Fighting Graft to Upholding Integrity" focused on ICAC's anticorruption strategy, mandate and anticorruption training, and OECD's recommendations on public integrity.
The second session held on 25 February 2021 "Engaging the Young Generation in the Fight against Corruption" honed in on ICAC's approach to engage youth in the fight against corruption and OECD's recommendations on education for integrity.
The third session held on 14 April 2021 "From Theory to Practice – Effective Control of Corruption through Systemic Prevention (Part 1)" and "Reducing Corruption Risks in Construction Work (Part 2)" explored ICAC's experience in preventing systemic corruption in public sector including construction industry, OECD's anticorruption framework for investments, and ADB's corruption prevention and compliance approach.   
The fourth session held on 28 April 2021 "Corruption in Public Procurement – Risks and Cures" focused on ICAC's corruption prevention measures in public procurement, OECD's procurement framework, and ADB's proactive integrity review of procurement practices.  
Program and Learning Materials: