Events
Policy Maker E-Training Course: Applying Principles of Quality Infrastructure Development in Asia
06 March 2023

to

29 April 2023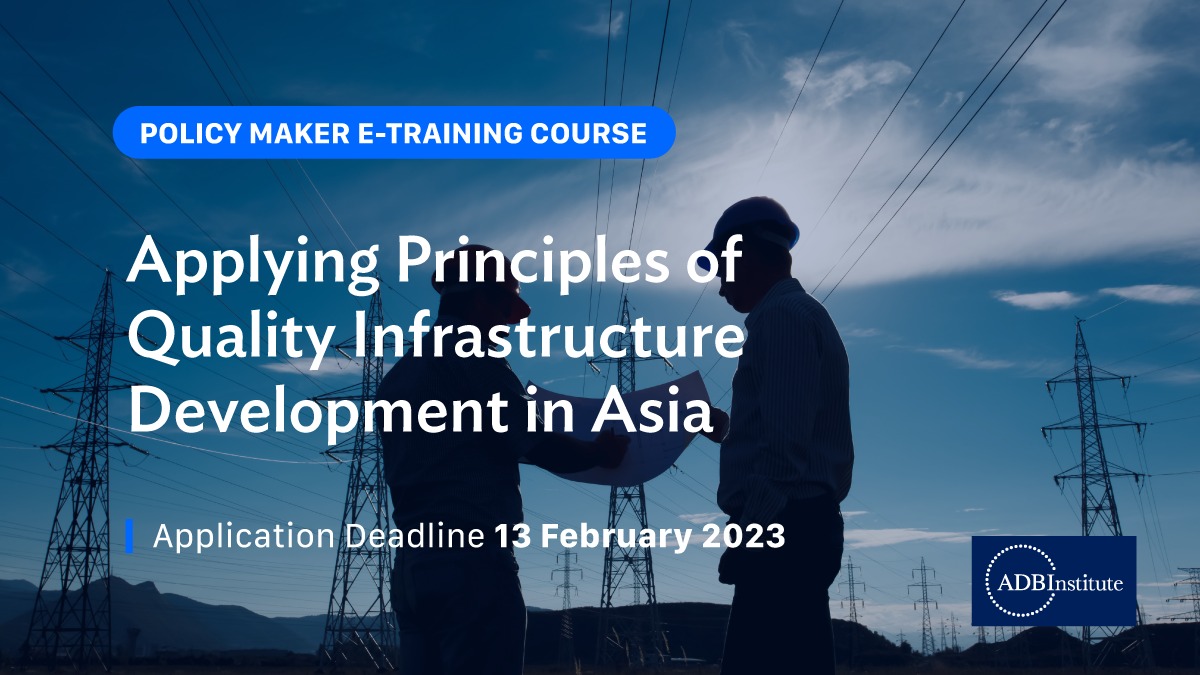 The Asian Development Bank report Supporting Quality Infrastructure in Developing Asia emphasizes the importance of the Group of 20 (G20) Principles for Quality Infrastructure Investment for sustainable development and recovery. However, quality infrastructure growth is a complex process that requires the application of such principles in project design, planning, construction, operations, and management.
This ADBI policy maker e-training course will examine infrastructure systems and principles for developing quality infrastructure in Asia, drawing on case studies and best practices from Japan and worldwide. Topics will include project conceptualization, motivation, acceleration, and potential slowdown factors, as well as project types, investment plans and their stakeholder effects, operational management, and international cooperation.
Among the course requirements include 5 video-based modules which must be completed between 6 March-9 April 2023:
Module 1: Principles for Infrastructure Development
Module 2: Infrastructure Commercialization and Business Entity
Module 3: Infrastructure Planning and Decision Making
Module 4: Infrastructure Operations and Maintenance
Module 5: International Cooperation for Infrastructure Development
Upon completing the modules, the course convenors will review performance and invite qualified participants to join a virtual policy workshop as a panelist or discussant on 20 April 2023. Invited participants will be asked to present country case studies.
See more about this ADBI event here.
Program and Learning Materials:
| Date | Session / Activity | Presentation Material | Speaker(s) |
| --- | --- | --- | --- |
| 06 Mar 2023 | | For more information, please visit here. | |