Events
PAK: ADB Trade and Supply Chain Finance Program's Countering Trade-Based Money Laundering Masterclass
03 May 2023

to

05 May 2023
Please note that PowerPoint Presentations WILL NOT be uploaded. 
ANSWER EVALUATION FORM TO RECEIVE DIGITAL CERTIFICATE: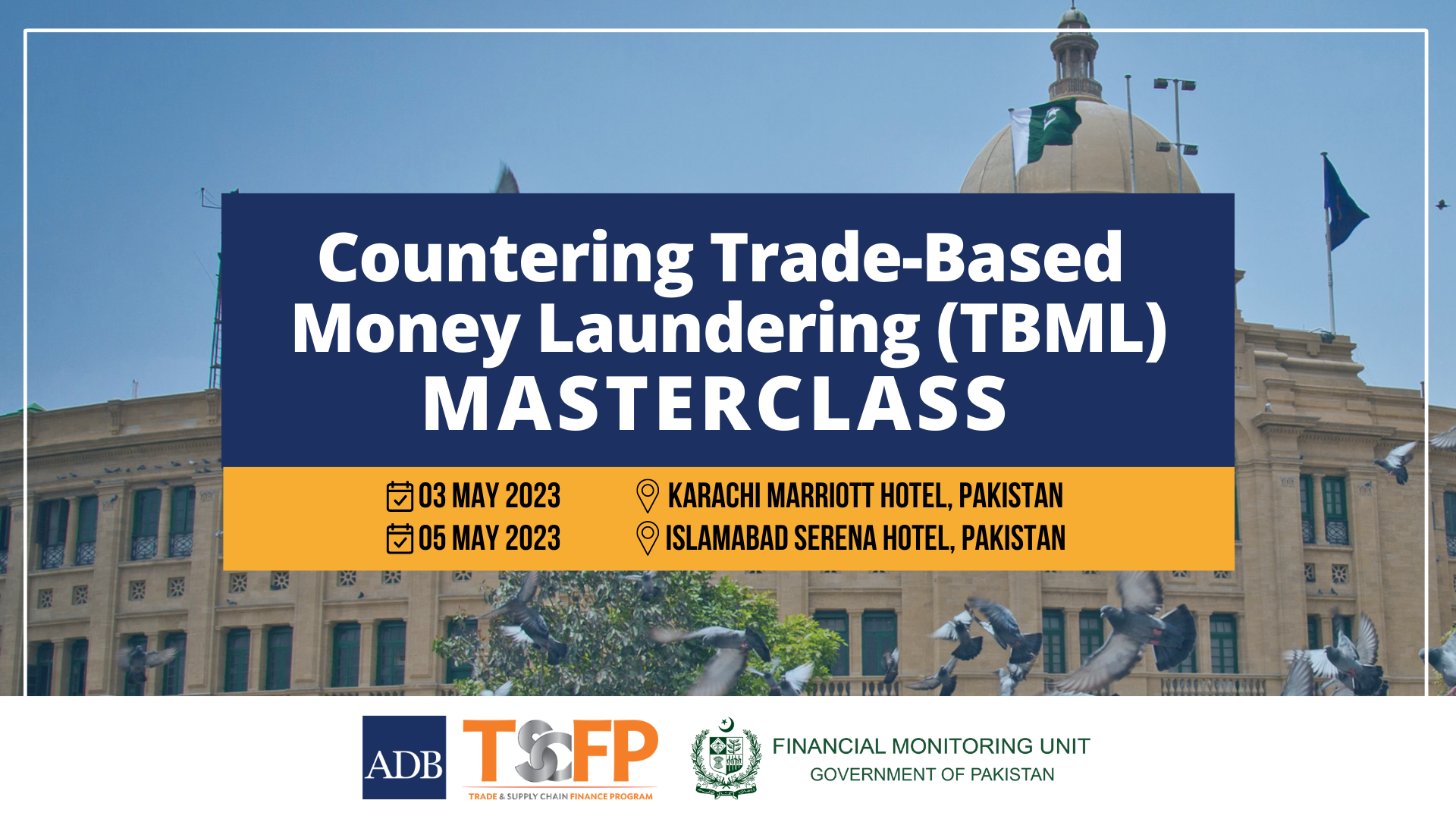 The Asian Development Bank's (ADB) Trade and Supply Chain Finance Program's Countering Trade-Based Money Laundering Masterclass is a specialized training for relevant personnel in banks, FIU, customs, and law enforcement agencies to equip them with practical skills in detecting, analyzing, and investigating TBML cases. At the same time, the two-day workshop aims to foster strategic partnerships between the public and private sectors in sharing knowledge and expertise, and in working together whether through formal or informal channels, to effectively detect and/or disrupt TBML. The Masterclass is part of the ongoing ADB-led pilot on enhanced TBML reporting which enables banks to provide more actionable intelligence to regulators and law enforcement agencies. Countries included in the pilot are: Bangladesh, Mongolia, Nepal, Pakistan, and Sri Lanka. 
The ADB TBML Masterclass in Pakistan happening on 3 & 5 May 2023 to be held in Karachi (3 May) and in Islamabad (5 May) is jointly organized with the Pakistan Financial Monitoring Unit, an independent intelligence service department of the Government of Pakistan. The ADB has engaged international subject matter experts to speak on relevant TBML topics, share best practices and tips, and facilitate interactive sessions during the workshop. 
Program and Learning Materials:
| Date | Session / Activity | Presentation Material | Speaker(s) |
| --- | --- | --- | --- |
| 03 May 2023 | | PLEASE SEE ATTACHED PDF FILES FOR KARACHI AND ISLAMABAD WORKSHOPS, SEPARATELY. | |