Events
Education Sector Group Presentations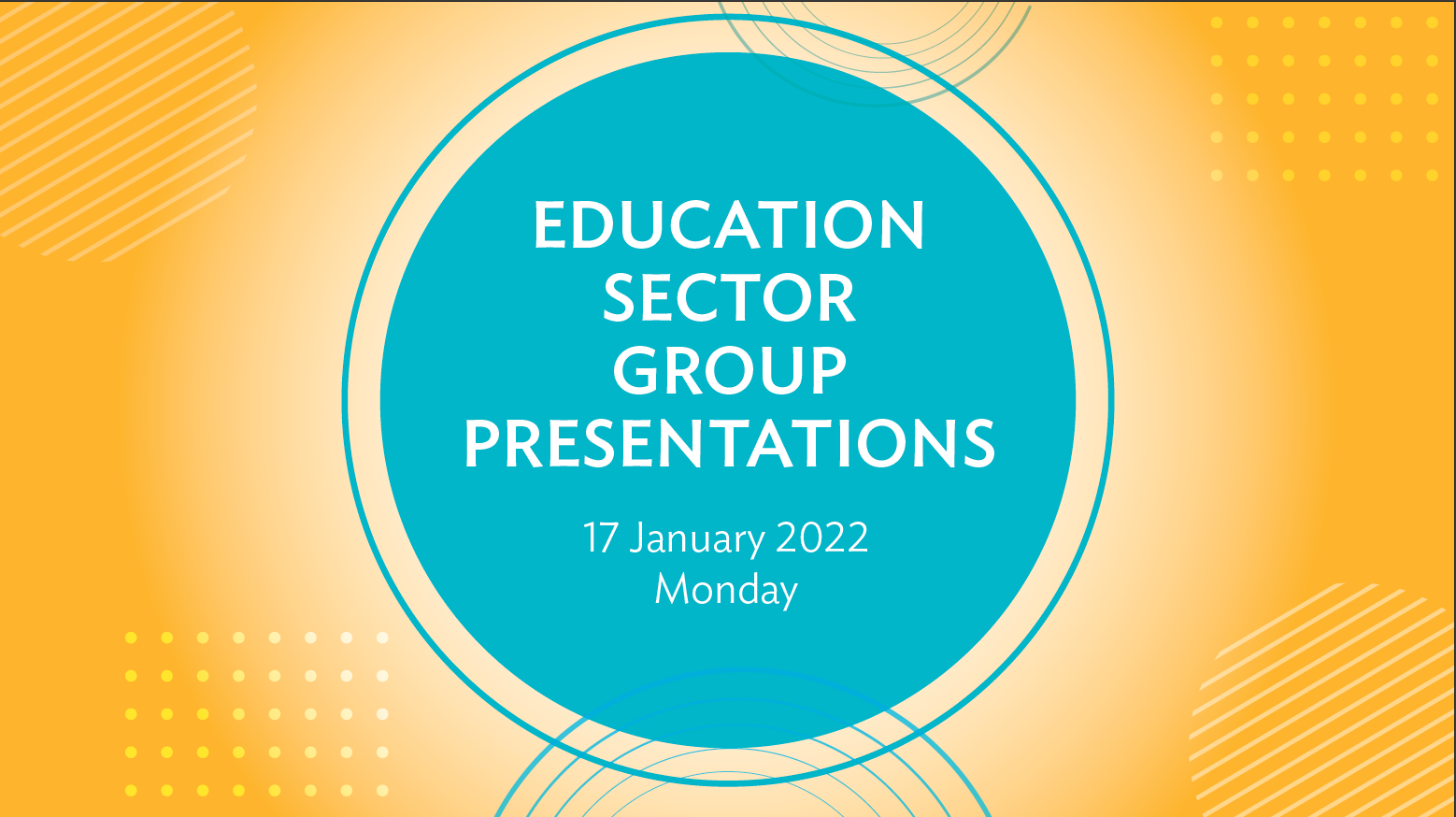 Even before the COVID-19 pandemic, technological advances brought by the Fourth Industrial Revolution (4IR) had already disrupted the world of work, leading to the growing demand for new sets of skills and competencies. Consequently, old jobs were being lost, while new jobs were created including new pathways for commercial activities. The biggest concern has been the accelerated pace of digitalization due to automation and new modalities of remote working triggered by COVID-19 has led to the loss of low-skilled jobs and exacerbated inequities. Women, young people, and other marginalized groups have been affected disproportionately, and the digital divide between and within countries has widened.
In this Education Retreat Section, there will be two sessions:
1. Scaling EdTech, Digital Skills and IR 4.0 Skills to Support the Growing Digital Economy (2:00 p.m. – 3:15 p.m.)
This session was conducted in a "talk show" style. In this modified panel discussion format, discussants took part in conversation driven by the questions of the moderator. 
The panel began with a very brief introduction of the rationale for this session by the moderator, followed by questions and answer period driven by the moderator who determined questions to bring out the relevant information and discussion from panelists. A predefined commentator from the ADB operational departments highlighted some key messages and/or key takeaways.
2. Green Transformation Needs a Green Workforce: The Role of Education and Training in Scaling Climate-Resilient Green Economy for the Post-COVID-19 World (3:30 p.m.–4:45 p.m.)
The session started with two presentation panel discussions with two panelists representing all levels of education and highlighting the need to blend conceptual thinking with practical applications. Each panelist presented a brief statement on how to prepare future-ready leaders and the workforce with green skills and the implications on how DMCs can collaborate to mainstream climate change in education and workforce development. The statement was followed by a question regarding how to design and operationalize such an approach, drawing on concrete examples. After this, two discussants shared their thoughts and raise questions to the panelists.
SPEAKERS
Program and Learning Materials:
Date
Session / Activity
Presentation Material
Speaker(s)

17 Jan 2022

Panel Discussion 1
Scaling EdTech, Digital Skills and IR 4.0 Skills to Support the Growing Digital Economy


Watch the full webinar recording here.

17 Jan 2022

Opening
Session Introduction
Shanti Jagannathan, Principal Education Specialist, ADB

17 Jan 2022

Opening
Remarks
Brajesh Panth, Chief of Education Sector Group, ADB

17 Jan 2022

Presentation 1
Jobs and Skills for the Future


This presentation provides an overview of LinkedIn's economic graph.

Trisha Suresh

17 Jan 2022

Presentation 2
Opportunities and Challenges: Achieving Digital Intelligence for 1 Billion Citizens by 2030


This presentation gives an overview of global standards on digital literacy, digital skills, and digital readiness as presented by the DQ Institute founder...

Yuhyun Park

17 Jan 2022

Presentation 3
The Digital Readiness Framework


This presentation provides an overview of the role of digital resources in education.

Andrew Staples

17 Jan 2022

Discussion from ADB Operational Departments
Sharing from SERD on new interventions and approaches being embedded in projects and programs
Fook Yen Chong

17 Jan 2022

Discussion from ADB Operational Departments
Sharing from SARD on incorporating EdTech and digital skills that prepare youth for the future
Gi Soon Song

17 Jan 2022

Discussion from ADB Operational Departments
Sharing from CWRD and the 4IR study undertaken with SDCC and implications for new components in ADB projects
Eisuke Tajima

17 Jan 2022

Discussion from ADB Operational Departments
Sharing on potential of EdTech in scaling learning and equity
Jian Xu

17 Jan 2022

Session Wrap-up
Session Summary
Shanti Jagannathan, Principal Education Specialist, ADB

17 Jan 2022

Panel Discussion 2
Green Transformation Needs a Green Workforce: The Role of Education and Training in Scaling Climate-Resilient Green Economy for the Post-COVID-19 World


Watch the full webinar recording here.

17 Jan 2022

Opening
Welcome Remarks
Xiaohong Yang, Chief Thematic Officer Sustainable Development and Climate Change Department, ADB

17 Jan 2022

Panel Discussion
Climate Change Initiatives in Basic Education


This presentation gives an overview of how to teach climate change and disaster risk reduction in K-12.

Ronilda Co

17 Jan 2022

Panel Discussion
Potentials of Tertiary Education for Inclusive Green Transformation


This presentation provides an overview of how tertiary education can cultivate researchers and highly-skilled workers in promoting appropriate technology...

Dukwoo Jun

17 Jan 2022

Panel Discussion
Skills for the Green Transformation of the Economy


This presentation gives an overview of GIZ projects on developing skills for the green transformation.

Ruth Halle

17 Jan 2022

Panel Discussion
ADB Departments
Arghya Sinha Roy (SDCC), Principal Climate Change Specialist
Ryotaro Hayashi (SARD), Social Sector Economist
Meekyung Shin (SDCC), Education Specialist

17 Jan 2022

Closing
Closing Remarks
Brajesh Panth, Chief of Education Sector Group Sustainable Development and Climate Change Department, ADB