Series:
Asian Impact: ADB Research in Action
Disaster Resilience in Asia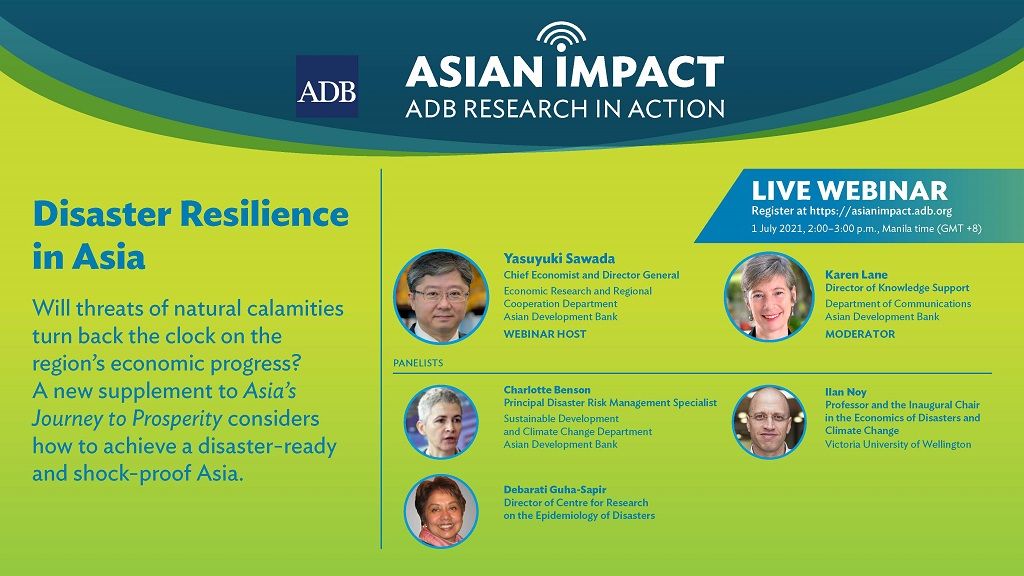 Asia and the Pacific has seen tremendous economic and social progress since the 1960s. Yet, the region remains vulnerable to disaster risk that threatens its hard-won gains. Over the years, developing Asia has endured a growing number of disasters triggered by natural hazards. As a result, numerous lives, livelihoods, and communities have been damaged or lost. The COVID-19 pandemic is a testament to the debilitating effects of such a disaster on people, businesses, and economies. Indeed, in 2020, developing Asia suffered its first economic contraction in 6 decades. Now more than ever, the region must find ways to reduce its vulnerability to natural hazards and build economic resilience. 
This webinar discussed disaster resilience in Asia, highlighting the issues identified in the new report, "Disaster Resilience in Asia," which is a special supplement of Asia's Journey to Prosperity: Policy, Market, and Technology over 50 Years.
 
Program and Learning Materials: