Events
Delivery of COVID-19 Booster and Paediatric Vaccines: Lessons from Malaysia, the Philippines and the United Kingdom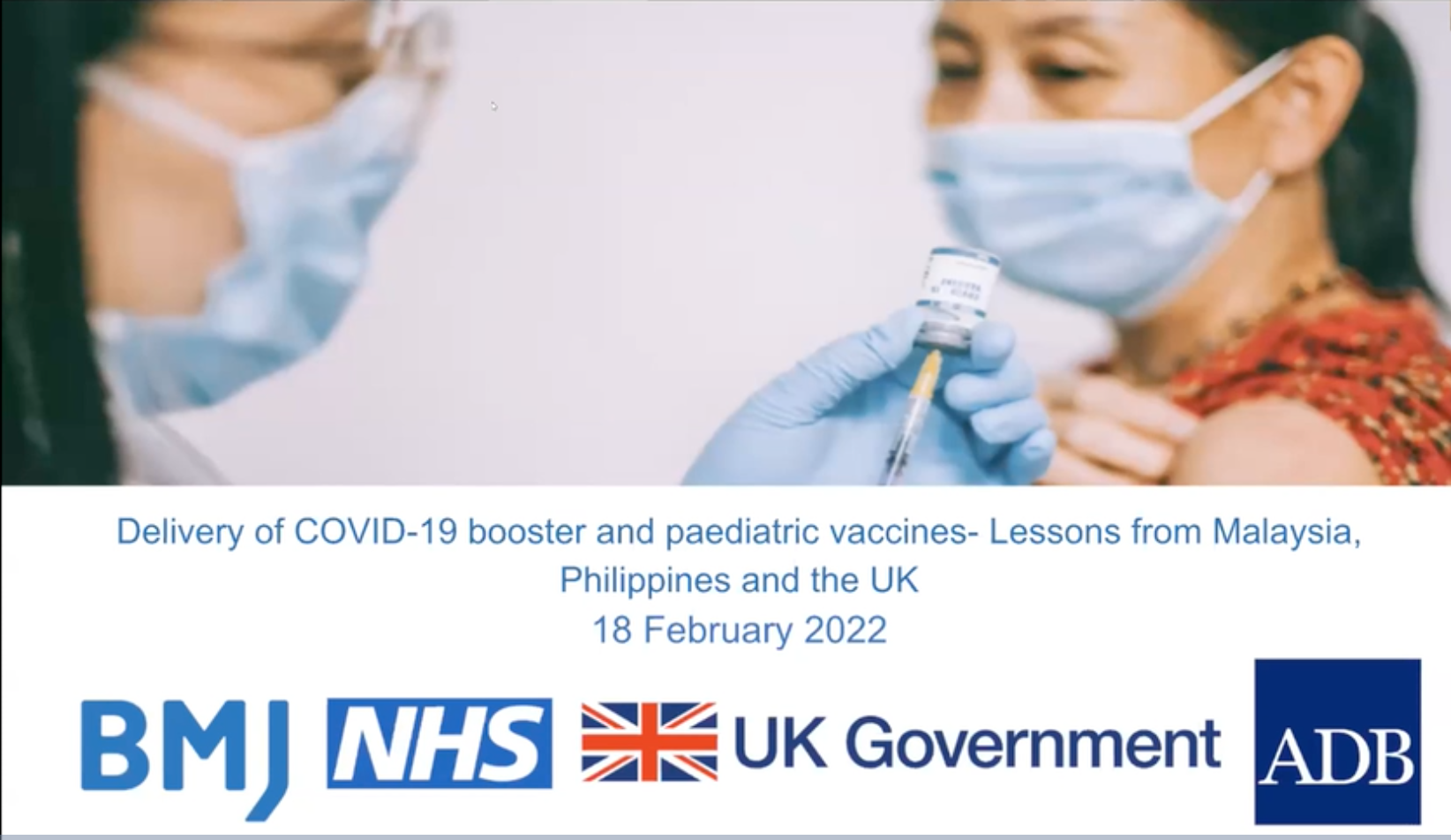 As COVID-19 vaccines continue to be deployed around the world, countries are now planning for and actively administering booster doses and vaccines for their paediatric populations. What has the experience been in different countries? What have been the successes and challenges?
Asian Development Bank, in partnership with the British Medical Journal, the UK Government's Better Health Programme, and UK National Health Service (NHS), hosted a webinar with an expert panel of speakers from Malaysia, the Philippines, and the United Kingdom.
Watch the webinar recording here.
Program and Learning Materials:
Date
Session / Activity
Presentation Material
Speaker(s)

18 Feb 2022

Opening
Introduction
Dr. Patrick L. Osewe, Chief of Health Sector Group, ADB

18 Feb 2022

Panel Discussion
Watch the Webinar Recording here.
Moderator:
Dr. Ashley McKimm, Director of Partnership Development, BMJ, UK

18 Feb 2022

Presentation
Malaysia
Tan Sri Dato' Seri Dr Noor Hisham Abdullah, Director General Health

18 Feb 2022

Presentation
Philippines
Myrna C. Cabotaje, Undersecretary of Health & Chief, National Vaccination Operations Center

18 Feb 2022

Presentation
The United Kingdom
Andrew Earnshaw, Head of the JCVI (Joint Committee for Vaccination and Immunisation) Scientific Secretariat, UK Health Security Agency

18 Feb 2022

Presentation
The United Kingdom
Dr. Jonathan Leach OBE, Medical Director for COVID-19 Immunisation, NHS England, Associate Medical Director for Armed Forces and Veterans Health and General Practitioner Davenal House Surgery Bromsgrove

18 Feb 2022

Presentation
The United Kingdom
Dr. Harpreet Sood, Clinical Advisor for the COVID-19 Vaccine Programme; Non-Executive Director, Health Education England; General Practitioner