Events
ADBI Featured Speaker Webinar: Harvard University's Fernando Reimers on Building Resilient Education Systems After the COVID-19 Pandemic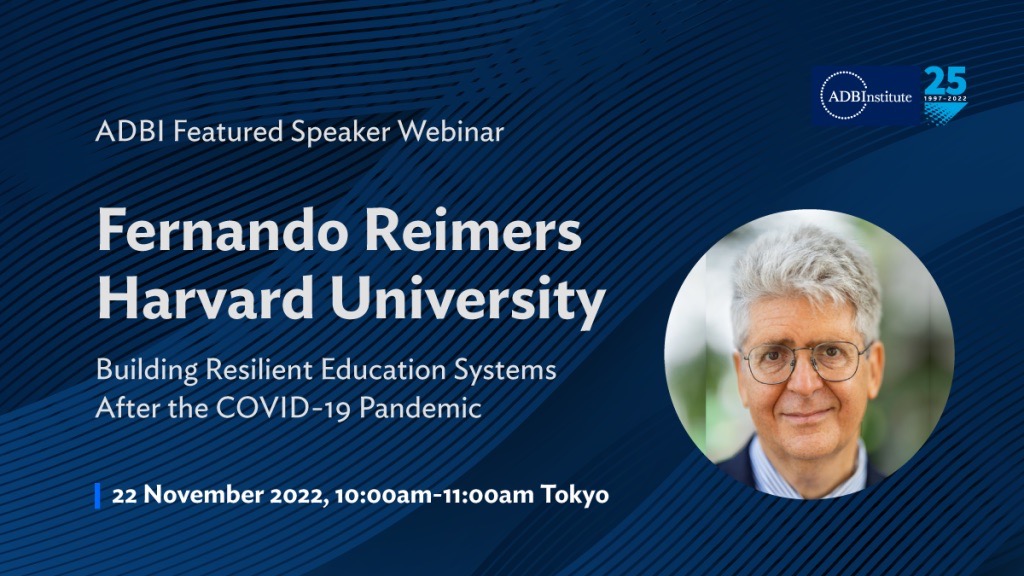 This ADBI Featured Speaker webinar spotlighted Harvard University's Fernando Reimers, who examined the COVID-19 pandemic's effects on education and lessons for building education system resilience.
Reimers discussed educational innovations that emerged during the pandemic and how they can support education system development, as outlined in a recent United Nations (UN) report he co-authored.
About the Speaker
Fernando Reimers is the Ford Foundation Professor of the Practice of International Education and Director of the Global Education Innovation Initiative at Harvard University. His research and teaching focus on understanding how to educate children and youth so they can thrive in the 21st century.
He was a member of the UN Educational, Scientific, and Cultural Organization commission that wrote the report Reimagining Our Futures Together: A New Social Contract for Education. He has developed Sustainable Development Goals-aligned curricula in many schools globally and led numerous comparative studies examining COVID-19's educational consequences and options to sustain educational opportunities.
See more about this ADBI event here.
Program and Learning Materials:
| Date | Session / Activity | Presentation Material | Speaker(s) |
| --- | --- | --- | --- |
| 22 Nov 2022 | | More information can be found here. | |