Events
ADB Seminar Series - Ocean Health: Actions from Source to Sea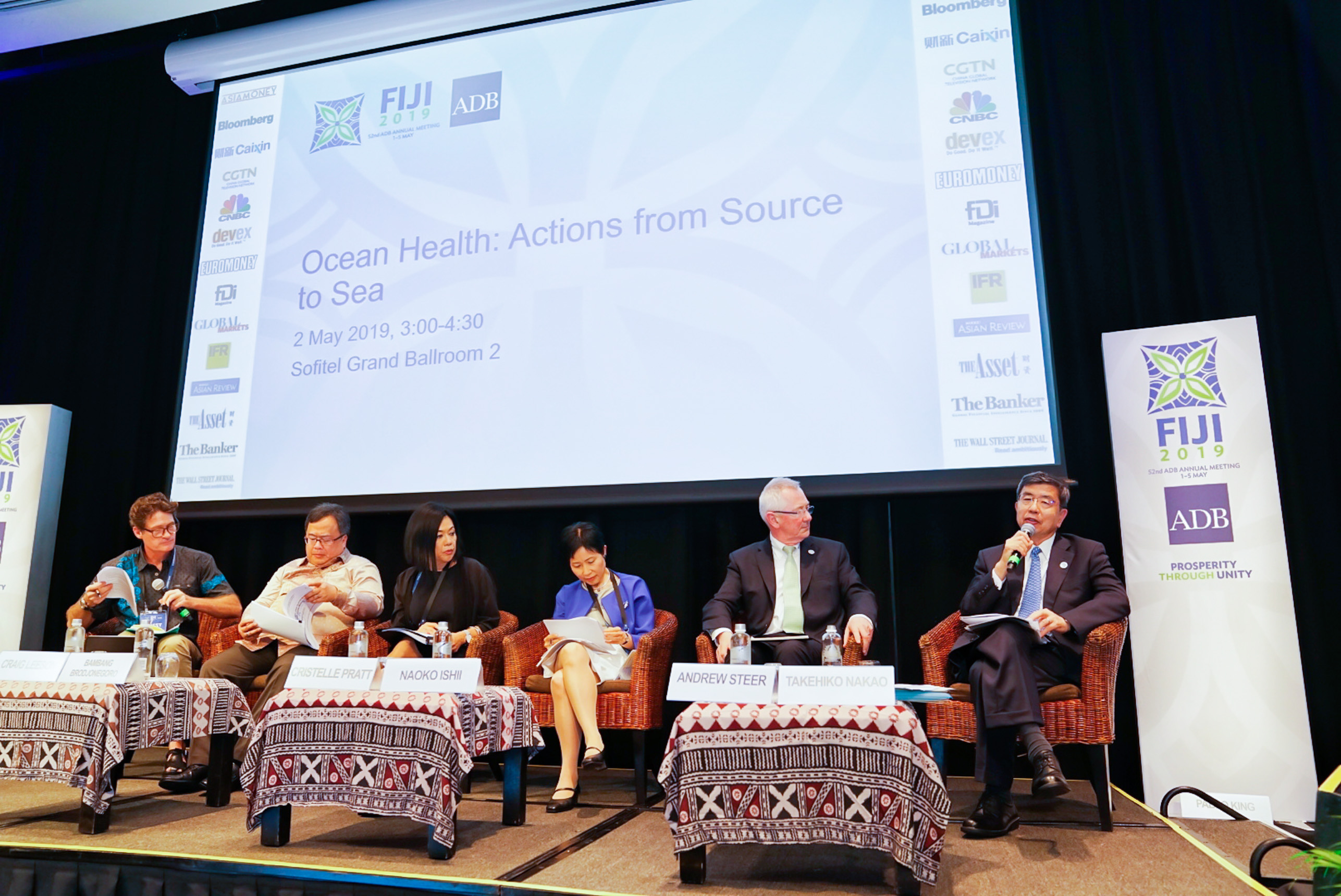 Asia Pacific's oceans are exceptionally rich in biodiversity, support large and growing marine economies and provide livelihoods and food security for millions of people. But the ocean faces major challenges, including climate change, pollution, unsustainable fishing, habitat degradation, and biodiversity loss.  These, in turn, threaten development gains and economic growth.  Globally, ocean health has become an urgent priority, with Asia and the Pacific showing leadership on action. 
The seminar, which is part of the ADB Seminar Series during the 52nd ADB Annual Meeting, sought to:  
(i) Discuss actions for ocean health and for developing sustainable ocean economies; 
(ii) Present the interconnectedness of oceans health and economic development; and 
(iii) Showcase partnership, financing, and investment opportunities.
Program and Learning Materials:
Date
Session / Activity
Presentation Material
Speaker(s)

02 May 2019

Opening Remarks
Opening Remarks
Craig Leeson

02 May 2019

Video Screening
A Plastic Ocean (trailer)


A Plastic Ocean is an award-winning feature-length documentary by a group of dedicated scientists, filmmakers, social entrepreneurs, scholars...

Craig Leeson

02 May 2019

Interactive Seminar Discussion
Part 1: Building Consensus and Consolidating Action
Bambang Brodjonegoro, Naoko Ishii, Takehiko Nakao, Andrew Steer, and Cristelle Pratt

02 May 2019

Interactive Seminar Discussion
Part 2: Oceans Health and Economic Development
Bambang Brodjonegoro, Naoko Ishii, Takehiko Nakao, Andrew Steer, and Cristelle Pratt

02 May 2019

Interactive Seminar Discussion
Part 3: Building Partnerships and Investment Opportunities
Bambang Brodjonegoro, Naoko Ishii, Takehiko Nakao, Andrew Steer, and Cristelle Pratt

02 May 2019

Plenary Questions and Answers
Plenary Questions and Answers

02 May 2019

Final Question
Final Question
Bambang Brodjonegoro, Naoko Ishii, Takehiko Nakao, Andrew Steer, and Cristelle Pratt

02 May 2019

Wrap Up and Closing Remarks
Wrap Up and Closing Remarks
Craig Leeson