Events
1st Asia-Pacific Housing Conference: Making Housing Affordable, Inclusive, and Resilient
08 November 2022

to

09 November 2022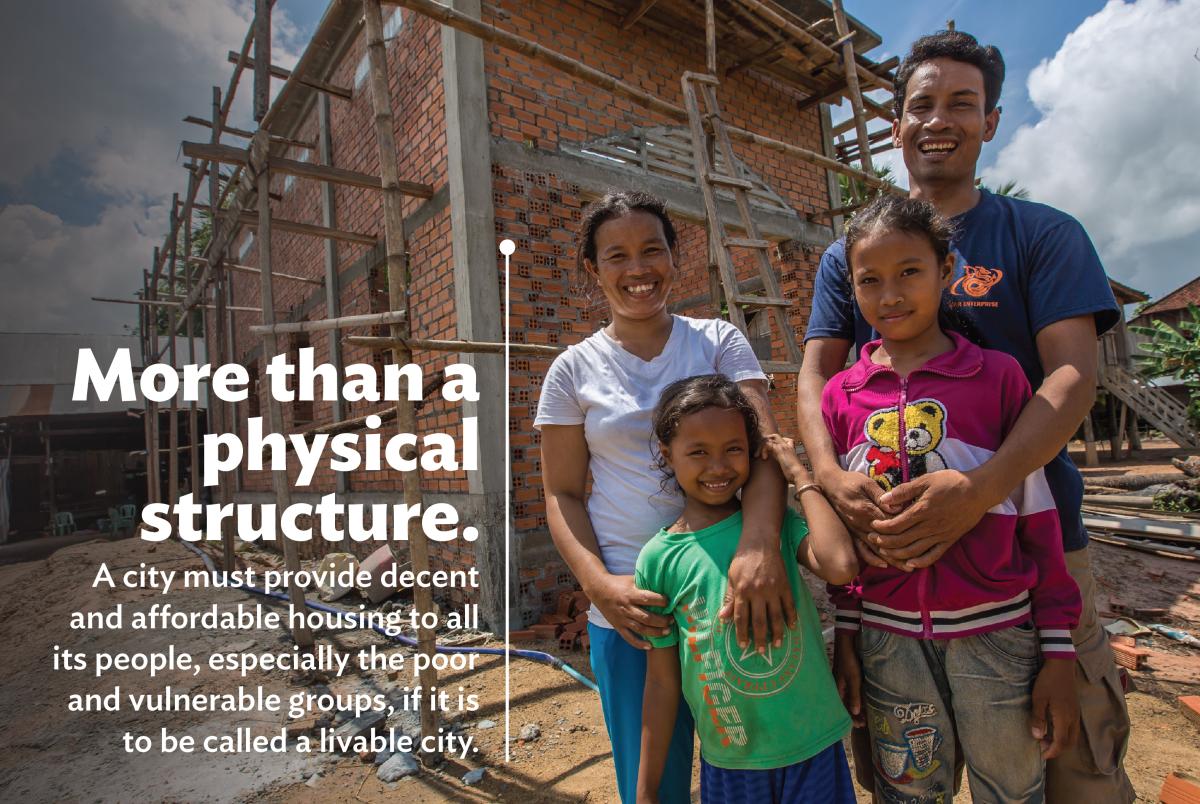 A city must provide housing to all its residents if it is to be called livable. Are cities in Asia and the Pacific livable from this perspective? Most cities in the lower- and middle-income countries in Asia and the Pacific face severe housing challenges. The urban poor and informal settlers suffer the most as they have no choice but to live substandard houses. The conventional channels of housing delivery are failing to address the surging demand. The scale and pace of urbanization and population growth pose additional stress on the already scarce urban housing supply.
In its Strategy 2030, ADB has committed to responding effectively to the needs of its developing member countries to achieve a prosperous, inclusive, resilient, and sustainable Asia and the Pacific. Among its operational priorities, Operational Priority 4: Making Cities More Livable (OP4) focuses on, among others, affordable housing as a key area to support its developing member countries on project financing, knowledge generation, and capacity building in the housing sector. This aligns very well with ADB's goal of making cities more livable.
ADB is privileged to host the 1st Asia-Pacific Housing Conference (AHC) 2022 on "Making Housing Affordable, Inclusive, and Resilient."
Objectives
The AHC 2022 aims to:
facilitate peer-to-peer learning from successful models and practices in the housing sector;
discuss innovations and best practices to adopt as well as lessons and pitfalls to avoid for an affordable, inclusive, and resilient housing sector, especially for the vulnerable groups; and
bring in regional and international best practices to support this agenda.
Target participants
AHC 2022 is open for all. It encourages participants interested in the housing sector from ADB's member countries, regional and international development partners, the private sector, research and academic institutions, civil society, among others.
REGISTER now to join the virtual event. 
Program and Learning Materials:
| Date | Session / Activity | Presentation Material | Speaker(s) |
| --- | --- | --- | --- |
| 08 Nov 2022 | Inaugural Session | | Moderator: Christine Engstrom, Director, Private Sector Operations Department, ADB |
| 08 Nov 2022 | Inaugural Session | | Presenters: Woochong Um, Managing Director General and OIC, Vice-President Knowledge Management and Sustainable Development, ADB |
| 08 Nov 2022 | Inaugural Session | | Prof. Marja Hoek-Smit, Director/Founder, International Housing Finance Program, Zell/Lurie Real Estate Center, Wharton School, University of Pennsylvania, USA |
| 08 Nov 2022 | Inaugural Session | | Julian Baskin, Senior Urban Advisor, Cities Alliance |
| 08 Nov 2022 | Inaugural Session | | Mardi Mapa-Suplid, CEO, Habitat for Humanity, Philippines |
| 08 Nov 2022 | Opening Plenary: Housing Policies and Governance Frameworks in ADB's Developing Member Countries and the Role of Development Partners in the Housing Sector | | Moderator: Hisaka Kimura, Advisor, Private Sector Operations Department, ADB |
| 08 Nov 2022 | Opening Plenary: Housing Policies and Governance Frameworks in ADB's Developing Member Countries and the Role of Development Partners in the Housing Sector | | Presenters: Shirley Ballaney, Architect-Urban Planner, India |
| 08 Nov 2022 | Opening Plenary: Housing Policies and Governance Frameworks in ADB's Developing Member Countries and the Role of Development Partners in the Housing Sector | | Sai Balakrishnan, Associate Professor of City and Regional Planning, UC Berkeley (tentative) |
| 08 Nov 2022 | Opening Plenary: Housing Policies and Governance Frameworks in ADB's Developing Member Countries and the Role of Development Partners in the Housing Sector | | Anaclaudia Marinheiro Centeno Rossbach, Director, Lincoln Institute of Land Policy |
| 08 Nov 2022 | Opening Plenary: Housing Policies and Governance Frameworks in ADB's Developing Member Countries and the Role of Development Partners in the Housing Sector | | Celine D'Cruz, Vice President, Board of Directors, Block by Block Foundation |
| 08 Nov 2022 | Housing Policies and Governance Frameworks in ADB's Developing Member Countries and the Role of Development Partners in the Housing Sector | | Tri Dewi Virgiyanti, Director, Housing and Settlement, Ministry of National Development Planning/National Development Agency, Indonesia (tentative) |
| 08 Nov 2022 | Housing Policies and Governance Frameworks in ADB's Developing Member Countries and the Role of Development Partners in the Housing Sector | | Robert M. Buckley, Urban Institute, Washington, USA |
| 08 Nov 2022 | Technical Session 1: Overarching Trends, Challenges, and Opportunities in the Housing Sector in Developing Member Countries | Presenters | Yan Zhang, Senior Urban Economist, World Bank |
| 08 Nov 2022 | Technical Session 1: Overarching Trends, Challenges, and Opportunities in the Housing Sector in Developing Member Countries | | Shubhagato Dasgupta, Senior Fellow, Centre for Policy Research |
| 08 Nov 2022 | Technical Session 1: Overarching Trends, Challenges, and Opportunities in the Housing Sector in Developing Member Countries | | Patrick L. Osewe, Chief of Health Sector Group, Sustainable Development and Climate Change Department, ADB |
| 08 Nov 2022 | Technical Session 1: Overarching Trends, Challenges, and Opportunities in the Housing Sector in Developing Member Countries | | Stefan Rau, Senior Urban Specialist, East Asia Department, ADB |
| 08 Nov 2022 | Technical Session 1: Overarching Trends, Challenges, and Opportunities in the Housing Sector in Developing Member Countries | | Rainer Gerke, GIZ (TBC) |
| 08 Nov 2022 | Technical Session 2: Enabling Access to Land for Housing in the Region | | Moderator: Saswati Ghosh Belliappa, Senior Safeguards Specialist, South Asia Department, ADB |
| 08 Nov 2022 | Technical Session 2: Enabling Access to Land for Housing in the Region | | Shirley Ballaney, Architect-Urban Planner, India |
| 08 Nov 2022 | Technical Session 2: Enabling Access to Land for Housing in the Region | | Sai Balakrishnan, Associate Professor of City and Regional Planning, UC Berkeley (tentative) |
| 08 Nov 2022 | Technical Session 2: Enabling Access to Land for Housing in the Region | | Tony Piaskowy, Global Programs Director, Cadasta Foundation |
| 08 Nov 2022 | Technical Session 2: Enabling Access to Land for Housing in the Region | | Faizal Seedat, Senior Planning Manager, Human Settlements Unit, eThekwini Municipality, Durban |
| 08 Nov 2022 | Technical Session 2: Enabling Access to Land for Housing in the Region | | Rowena Dineros, OIC-Director, Public Housing and Settlement Service, Department of Human Settlements and Urban Development (DHSUD), Philippines (tentative) |
| 08 Nov 2022 | Technical Session 2: Enabling Access to Land for Housing in the Region | | Prof. Nelson Mota, Delft University, Netherlands |
| 08 Nov 2022 | Technical Session 2: Enabling Access to Land for Housing in the Region | | Anindita Mukherjee, Associate Fellow, Centre for Policy Research |
| Date | Session / Activity | Presentation Material | Speaker(s) |
| --- | --- | --- | --- |
| 09 Nov 2022 | Technical Session 3: Contribution of the Housing Sector to Increasing Resilience of Developing Member Countries: Opportunities from Technological Advancements Across the Elements of the Project Cycle—Planning, Design and Construction of Housing Projects | | Moderator: Hiranya Mukhopadhyay, Chief of Governance Thematic Group, Sustainable Development and Climate Change Department, ADB |
| 09 Nov 2022 | Technical Session 3: Contribution of the Housing Sector to Increasing Resilience of Developing Member Countries: Opportunities from Technological Advancements Across the Elements of the Project Cycle—Planning, Design and Construction of Housing Projects | Presenters | Myoungju Lee, College of Architecture, Myongji University |
| 09 Nov 2022 | Technical Session 3: Contribution of the Housing Sector to Increasing Resilience of Developing Member Countries: Opportunities from Technological Advancements Across the Elements of the Project Cycle—Planning, Design and Construction of Housing Projects | | Ashna Singh, Founder of Total Housing Inc. |
| 09 Nov 2022 | Technical Session 3: Contribution of the Housing Sector to Increasing Resilience of Developing Member Countries: Opportunities from Technological Advancements Across the Elements of the Project Cycle—Planning, Design and Construction of Housing Projects | | Arnaud Heckmann, Principal Portfolio Management Specialist, South Asia Department, ADB |
| 09 Nov 2022 | Technical Session 3: Contribution of the Housing Sector to Increasing Resilience of Developing Member Countries: Opportunities from Technological Advancements Across the Elements of the Project Cycle—Planning, Design and Construction of Housing Projects | Panelists | Kamal Kishore, Member Secretary, National Disaster Management Authority, India |
| 09 Nov 2022 | Technical Session 3: Contribution of the Housing Sector to Increasing Resilience of Developing Member Countries: Opportunities from Technological Advancements Across the Elements of the Project Cycle—Planning, Design and Construction of Housing Projects | | Belinda Hewitt, Senior Disaster Risk Management Specialist, Sustainable Development and Climate Change Department, ADB |
| 09 Nov 2022 | Technical Session 3: Contribution of the Housing Sector to Increasing Resilience of Developing Member Countries: Opportunities from Technological Advancements Across the Elements of the Project Cycle—Planning, Design and Construction of Housing Projects | | David Morgado, Senior Energy Specialist, Sustainable Development and Climate Change Department, ADB |
| 09 Nov 2022 | Technical Session 3: Contribution of the Housing Sector to Increasing Resilience of Developing Member Countries: Opportunities from Technological Advancements Across the Elements of the Project Cycle—Planning, Design and Construction of Housing Projects | | Arndt Husar, Senior Public Management Specialist, Sustainable Development and Climate Change Department, ADB |
| 09 Nov 2022 | Technical Session 4: Integrating Low-income Housing and Neighbourhoods into City Planning and Governance Frameworks | | Moderator: Kyung-Hwan Kim, Seogang University, Republic of Korea |
| 09 Nov 2022 | Technical Session 4: Integrating Low-income Housing and Neighbourhoods into City Planning and Governance Frameworks | Presenters | G. Mathi Vathanan, IAS, Principal Secretary, Housing and Urban Development Department (HUDD), Government of Odisha |
| 09 Nov 2022 | Technical Session 4: Integrating Low-income Housing and Neighbourhoods into City Planning and Governance Frameworks | | Somsook Boonyabancha, Secretary General, Asian Coalition for Housing Rights |