Events
16th Global Forum on Human Settlements: Accelerate Green Transformation and Innovation towards Healthy, Resilient, and Carbon-neutral Cities
27 October 2021

to

29 October 2021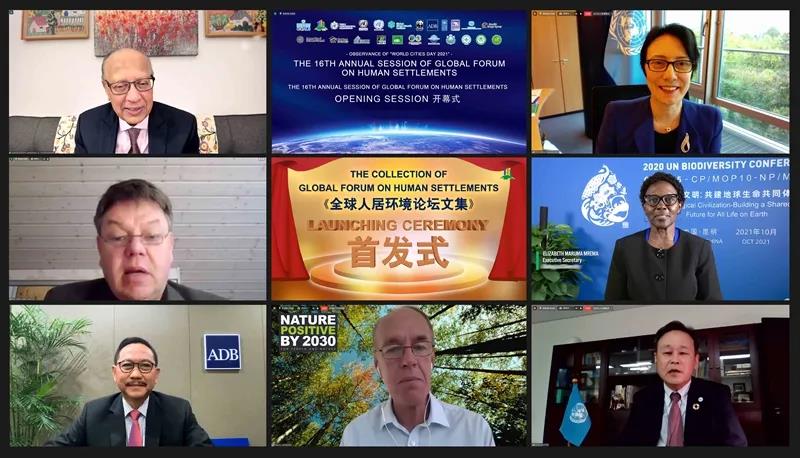 The 16th Annual Session of Global Forum on Human Settlements (GFHS 2021) was held in a virtual format to observe the World Cities Day from October 27 to 29, 2021, with the theme being "Accelerate Green Transformation and Innovation towards Healthy, Resilient and Carbon-neutral Cities".  
Bambang Susantono, Vice-President for Knowledge Management and Sustainable Development at Asian Development Bank, delivered his speech during the Opening Session. 
GFHS 2021 aims to unite world cities to tackle climate change towards sustainability. Twenty five leading organizations joined the forum as co-organizers and collaborators, including 10 major UN agencies, such as World Meteorological Organization, United Nations Conference on Trade and Development, United Nations Development Programme, United Nations Office for Disaster Risk Reduction, United Nations Industrial Development Organization, and United Nations Centre for Regional Development, as well as the Asian Development Bank, the African Development Bank, and a number of well-known international institutions. 
The three-day forum has reached out to over 100,000 professional audiences through live streaming and remote participation. Participants from different countries on six continents conducted in-depth discussions on 10 key issues, put forward scientific solutions and policy recommendations, reached a consensus on a set of outcomes, and recommended a batch of outstanding sustainable development practices and innovations. The forum has made a positive contribution to the United Nations Climate Change Conference (COP26) to be opened in Glasgow two days later. 
Program and Learning Materials: