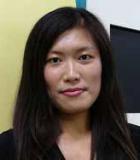 ICLEI East Asia Secretariat
Profile / Bio:
Yvonne has devoted herself to supporting cities being circular. She aims to facilitate global cities in East Asia and worldwide shifting towards the circular economy. With her interdisciplinary background in greenhouse gas mitigation, spatial planning, and economics, Yvonne is interested in integrating different schools of thought to solve sustainability challenges in cities. Yvonne joined ICLEI East Asia Secretariat to initiate the 'Green Circular Cities Coalition'. To further cities to learn from peers and frontrunners, the Coalition organizes capacity building activities and events for local government officials. The Coalition works with partners to provide technical assistance and to inspire circular urban innovation.
-----
Yvonne致力于支持城市循环。她的目标是促进东亚的全球城市和世界范围内向循环经济的转变。 凭借其在温室气体减排,空间 规划和经济学方面的跨学科背景,Yvonne努力整合不同的思想流派来解决城市中的可持续挑战。 Yvonne在 2017年加入ICLEI 东亚秘书处,推动"绿色循环城市联盟"。 为了让城市相互学习,联盟为地方政府官员组织能力建设活动。联盟与合作伙伴合 作,提供城市技术支持、激发城市循环创新。
-----
Стремится обеспечить переход «глобальных городов» Восточной Азии и по всему миру к циркулярной экономике. Имея образование в разных дисциплинах: в сфере смягчения последствий выбросов парниковых газов, пространственного планирования и экономики, Ивонн Янг проявляет интерес к интегрированию различных научных подходов для разрешения устойчивых проблем в развитии городов. Ивонн Янг работает в Секретариате Международного совета по местным экологическим инициативам по Восточной Азии для создания «Коалиции «зеленых» городов с циркулярной экономикой». В целях дальнейшего обучения в области развития городов на базе опыта партнеров и лидеров Коалиция организует мероприятия по наращиванию потенциала для местных исполнительных органов. Коалиция работает вместе с партнерами для предоставления технической поддержки и стимулирования инноваций в области развития городов с циркулярной экономикой.