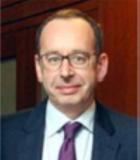 Profile / Bio:
Mr. Zhukov is a national of Kazakhstan. He holds a Master's degree in Economics from Claremont Graduate School, United States and a university diploma with distinction in Political Economy from Kazakh National University, Kazakhstan.
He has more than 26 years of professional work experience, including more than 25 years in ADB. He joined ADB in 1995 as a Young Professional. He progressed into increasing levels of responsibility across several departments and held senior level positions in the Pacific Department (PARD), the Department of Budget, People, and Management Systems (BPMSD), the Strategy, Policy and Partnerships Department (SPD) and the Office of the Secretary (OSEC), as The Secretary, he ensured that OSEC delivered a very high standard of support to Management, Board and the rest of ADB amidst a challenging agenda. With extensive experience and good judgement, he provided essential and highly valuable advice to the Board and Management on progressing ADB's agenda as well as ensured timely and quality outcomes. In BPMSD, he led preparation of 4 ADB budgets, implementation of Enhanced Separation Program, and finalization of 2017 pension reform.
He led successful conduct of ADB's first Annual Meeting in a Pacific developing member country (DMC) in 2019 – Fiji, and ADB's first virtual Annual Meeting in 2020. He was appointed as Director General of Central and West Asia Regional Department effective January 2021.