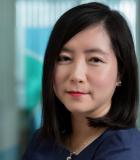 Principal and Country Manager
Profile / Bio:
Yen has over 17 years of experience in IP enforcement & litigation. Her specialty in contentious and non-contentious IP matters has a focus on enforcement, protection, and commercialization of trade marks, patents, copyright, and domain names. Her expertise in IP stretches across multiple regions including Vietnam, Laos, and Cambodia. 
She also has extensive experience in advising clients in data protection and data privacy in Vietnam. She has recently worked with the Digital Committee of the European Chamber of Commerce in Vietnam to contribute comments to the Ministry of Public Security on the draft decree of personal data protection. She also speaks at workshops on data protection and digital transformation in Vietnam and SEA organized by the World Economic Forum and Lexology.
Under the lead of Yen Vu, Rouse Vietnam has been chosen by the UK Government to provide technical training to IP authorities in Vietnam within the framework of their cooperation with the country. She also has experience working closely with the drafting committee of the Intellectual Property Office of Vietnam and the Copyright Office of Vietnam for IP law amendment exercises over the years.
Yen Vu has been practicing commercial and intellectual property law for more than 17 years, starting with a leading Vietnamese local IP firm and two other international law firms in Vietnam before joining Rouse in September 2014. She specializes in contentious and non-contentious intellectual property matters with a focus on protection, commercialization and enforcement of trademarks, patents, copyright, domain name and trade name in Vietnam, Laos and Cambodia. She advises leading multinational companies on optimizing their IP portfolios in Vietnam and has extensive experience in enforcing their rights in trademark appeal/opposition practice, trademark litigation, patent disputes as well as domain name disputes at WIPO Arbitration Centre. She also has significant experience in dealing with media and entertainment law, employment law relating to intellectual property, licensing and franchising, trade secrets, data protection and data privacy.
She has published in AsiaLaw & Practice, World Trademark Review and Vietnam Investment Review. She co-authored the book "International Copyright Law" published by Globe Law and Business in May 2013.