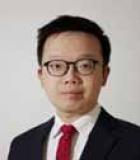 Profile / Bio:
Alan Xiangrui Meng is a Green Bond Analyst and China Project Manager based in Climate Bonds Initiative's London office. He leads the data analysis on the global green bond market, supports the data partner programme on several green bond indices, and provides research on green bond policies. He is a member of the UN Sustainable Stock Exchange Initiative's Green Finance Advisory Group.
-----
孟祥瑞先生是一位绿色债券分析师,气候债券倡议组织伦敦办事处的中国项目经理。 他负责全 球绿色债券市场的数据分析,支持多个绿色债券指数的数据合作伙伴计划,并提供绿色债券政 策研究。他是联合国可持续证券交易所倡议的绿色金融研究小组的成员。
-----
Алан Сянгруи Менг (Alan Xiangrui Meng) - аналитик по «зеленым» облигациям и руководитель китайского проекта в лондонском офисе «Climate Bonds Initiative». Он руководит выполнением анализа данных о мировом рынке зеленых облигаций, поддерживает партнерскую программу по нескольким индексам зеленых облигаций и проводит исследования политики зеленых облигаций. Он является членом Консультативной группы по зеленым финансам Инициативы ООН по устойчивой бирже.
LinkedIn:
https://www.linkedin.com/in/alan-xiangrui-meng