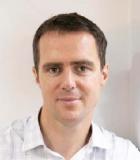 , CCELL Renewables Limited
Profile / Bio:
Dr. Will Bateman is the founder and CEO of CCell. He has 18+ years in marine engineering, with a PhD in extreme ocean waves from Imperial College, with extensive experience in modelling natural systems and ocean engineering for General Dynamics, RMS, and Lloyd's Register.
CCell Renewables develops technologies for the design, manufacture, and installation of beautiful artificial reefs powered by wave and solar energy. CCELL pride itself on the numerical modeling capabilities, that allow us to create tailor-made end-to-end solutions for coastal communities.
Specialties: Civil Engineer; Ph.D. in extreme ocean waves; numerical software development (C++, R, Python); river flood modeling; oil-water separation.