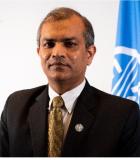 , FAO in Sri Lanka and Maldives
Profile / Bio:
Vimlendra Sharan is FAO Country Representative for Sri Lanka and Maldives. Sharan brings with him nearly three decades of national and international government leadership experience focusing on rural development, agriculture, and food security issues. As a member of the Indian Administrative Service, he has worked with the Indian Government extensively in rural and tribal areas of Maharashtra and has also been actively involved in agriculture and food policy formulation working with the Ministry of Agriculture and Farmers Welfare in New Delhi. He comes to Colombo from his previous posting as Director of FAO North America Office before which he was Permanent Representative of India to the Rome-based UN Agencies where he served as the Vice President of the Word Food Programme (WFP) Executive Board, Chairman of the Evaluation Committee at International Fund for Agricultural Development (IFAD), and a member of the FAO Programme Committee and Council.
Sharan holds a degree in Economics from St. Stephen's College in Delhi, India, and an MBA in Public Policy from the University of Birmingham, UK. He is married to Romonika D Sharan and has two children. Sharan is an avid golfer and a keen long-distance runner.