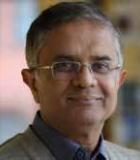 Profile / Bio:
Vijay Jagannathan comes from the World Bank where he was Sector Manager for infrastructure in the East Asia and Pacific region. He was responsible for an annual lending program of about $5 billion in the urban, water, transport and energy sectors. Mr. Jagannathan has been also associated with the APEC-led green growth and green finance initiatives. He has worked in the infrastructure, environment and urban development sectors in his 24 years in the Bank. Prior to that, he spent 10 years in Indian Administrative Service.
Mr. Jagannathan is an economist by training, with a PhD from Boston University. His dissertation on the informal markets for the poor was published by Oxford University Press in 1987 and recognized as one of the "Outstanding Academic Books of the Year" by the American Library Association. He has published extensively on water, urban development, agricultural development and environmental issues. Mr. Jagannathan currently serves as a Senior Fellow at the World Resources Institute and has been a consultant with the Green Climate Fund. He is a member of the United Nations Sustainable Development Group for Urban Issues and is working closely with the New Climate Economy initiative. He is also a member of the Expert Panel advising the Chinese Government on sustainable ecological civilizations. Mr. Jagannathan was elected as Secretary General of CITYNET at the 2013 CITYNET Seoul Congress and re-elected at the 2017 CITYNET Colombo Congress.
-----
Vijay Jagannathan为世界银行东亚和太平洋地区基础设施部门经理。他负责在城市、水、运输和能源领域实施约50亿美元的年 度贷款计划。Jagannathan先生还参与了APEC领导的绿色增长和绿色金融计划。在世界银行工作的二十四年间,他就职于基础设 施、环境和城市发展部门。在此之前,他在印度行政服务部门工作了10年。
Jagannathan先生是经济学家出身,获波士顿大学博士学位。他关于穷人非正式市场的博士论文由牛津大学出版社于1987年 出版,并被美国图书馆协会评为"年度杰出学术书籍"之一。他发表了大量有关水、城市发展、农业发展和环境问题的文 章。Jagannathan先生目前担任世界资源研究所的高级研究员,并担任绿色气候基金的顾问。他是联合国城市问题可持续发展小 组的成员,并正在与新气候经济倡议密切合作。他还是专家小组的成员,为中国政府提供可持续生态文明建议。Jagannathan先 生在2013年CITYNET首尔大会上当选为CITYNET秘书长,并在2017 CITYNET科伦坡大会上成功连任。
-----
Виджай Джаганнатхан работал во Всемирном банке в качестве руководителя сектора инфраструктуры в Восточной Азии и Тихоокеанском регионе. Отвечал за годовую программу кредитования в размере около 5 млрд. долл. США в секторе городского хозяйства, водоснабжения, транспорта и энергетики. Г-н Джаганнатхан также связан с инициативами АТЭС в сфере зеленого роста и зеленого финансирования. За 24 года в Банке он работал в секторе инфраструктуры, окружающей среды и городского развития. До прихода в Банк он 10 лет работал на административной службе Индии.
Г-н Джаганнатхан – экономист по образованию, получил степень PhD в Бостонском университете. Его диссертация на тему неформальных рынков для бедных была опубликована издательством «Oxford University Press» в 1987 года и признана одной из выдающихся академических книг года Библиотечной ассоциацией США. Имеет множество публикаций по вопросам водных ресурсов, городского развития, сельскохозяйственного развития и экологии. Г-н Джаганнатхан в настоящее время является старшим научным сотрудником в Институте мировых ресурсов и выступал в качестве консультанта для Зеленого климатического фонда. Является членом Группы устойчивого развития ООН по городским вопросам и тесно работает с инициативой Новой климатической экономики. Также является членом Экспертной группы, консультирующей Правительство КНР по вопросам устойчивых экологически развитых цивилизаций. Г-н Джаганнатхан был избран генеральным секретарем «CITYNET» на съезде «CITYNET» в Сеуле в 2013 году и переизбран на этот пост на съезде «CITYNET» в 2017 году в Коломбо.
LinkedIn:
https://www.linkedin.com/in/vijay-jagannathan-a9a64036/