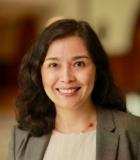 Social Development Specialist (Gender and Development)
Profile / Bio:
Veronica leads ADB's gender program for the People's Republic of China and Mongolia. She manages regional and country-level technical assistance on gender equality and social inclusion and works with loan processing teams ensuring that gender equality is an integral part of ADB operations. Veronica has authored various publications on gender and labor force dynamics in East Asia, gender and the energy transition, and gender-based violence in Mongolia. She has also written on the impact of economic crises on vulnerable populations in South-East Asia. Before joining ADB in 2017, Veronica consulted for the World Bank, the Development Bank of Southern Africa (DBSA), and the United Nations Environment Programme (UNEP).
Veronica has a Master's Degree in Public Policy and Management from the University of London, the United Kingdom, and a Master's Degree in Management of Agricultural Knowledge Systems from Wageningen University and Research in the Netherlands.